by Lisbeth Tarlow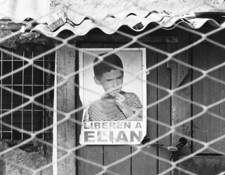 In March 2000, the Massachusetts Foundation for the Humanities sponsored a traveling seminar to Cuba with the theme, "Fifty Years of US-Cuban Relations." A group of 22, we spent nine days in pursuit of the 'real' Cuba while we sought to disentangle the myths from the reality of our complex relationship with this neighbor to our south.
We traveled from Havana to the industrial city of Cienfuegos, to historic Trinidad, to the provincial town of Santa Clara, and back to Havana. Over the course of our travels, we studied the history and surveyed the artifacts of Fidel Castro's revolution at the Museo de la Revolucion in Havana, paid tribute to the romantic revolutionary hero Che Guevera at his somber and triumphant monument in Santa Clara, and learned in exquisite detail Cuba's version of the infamous Bay of Pigs fiasco at a museum in Playa Giron.
We toured Cuba's longest operating cigar factory, where a dozen apprentices were being trained in the meticulous art of rolling the renowned Cuban cigar. We spent an afternoon at a sugar mill on the eve of a government-sponsored parade to celebrate the mill's recent production achievements. There the head engineer explained, with great precision and pride, the multiple stages of sugar production in Cuba, a labor intensive industry that is backward by Western standards, but nevertheless critically important to Cuba's fragile economy. We brought basic medicines to a local health clinic, one of hundreds that provide free medical care to Cubans but are woefully lacking in essential medical supplies.
Cuba is at a crossroads. An anachronistic remnant of the Cold War, Castro clings tenaciously to an authoritarian communism that can no longer provide its citizens with most of the basic essentials that communism is meant to ensure. To compensate for increasingly negative trends, due largely to the loss of Soviet subsidies, Castro has timidly introduced a number of economic measures aimed at encouraging some degree of privatization. But these measures are half-hearted at best, and rendered ineffective by illogical restrictions, which are often ignored. For example, we dined on several occasions at paladares, recently legalized, small family restaurants. Although the law permitting such entrepreneurial experiments restricts these restaurants to 12 customers per seating and prohibits the serving of certain foods such as shrimp and lobster, our group of 22 dined at one paladare on a like number of lobster dinners. On another occasion, two members of our group took advantage of Cuba's now legalized private taxi service, only to have the taxi stopped by a soldier who, after 15 minutes of heated discussion, fined the driver for transporting foreigners on a permit restricted to the transport of Cubans only.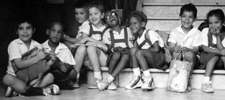 At the same time, we found in Cuba a vibrant culture, a warm and welcoming people, and a country eerily tolerant of its repressive government. Although many Cubans we encountered expressed a keen desire to live in the United States, many simultaneously voiced their concerns that an end to the US embargo and to Cuba's isolation from American culture would result in the loss of Cuba's special identity and cherished values.
Guiding and challenging us every step along this journey was our scholar-in-residence, Jorge Dominguez, professor of government, director of Harvard University's Weatherhead Center for International Affairs, and one of the world's preeminent Cuba scholars. On our final day, Jorge engaged in a one-man "dialogue" to sum up our reaction of "cognitive dissonance," as one member of the group aptly described it, to this complicated country. Alternately playing the role of revolutionary and Western liberal, he persuasively presented both a defense and a critique of the Castro regime and of US policy toward Cuba. As Cuban revolutionary, he argued that it is due to the resourceful acts of Cuba's revolutionary fathers, Che and Fidel in particular, that Cuba is so much better off today than it was under Batista and earlier imperialist regimes. It is due to the power of Castro's government that the Cuban people are healthy, happy, educated, and empowered. Cuba's government is a flexible one, which adapts effectively to such dramatic and changing circumstances beyond its control as the collapse of the Soviet Union. It is a government that engenders in its population a feeling of solidarity and nationalism, a government that allows the mechanical engineer at the sugar mill, for example, to develop his full potential and relate his accomplishments to us with such pride. The US continues to be Cuba's enemy. It is an imperialistic and hegemonic power trying to destroy Cuba's communist government, evidence of which can be found in measures ranging from Washington's efforts to prohibit the sale of medicines to Cuba to its support of an anti-Castro attitude by enticing a six-year-old Cuban boy with promises of Disneyland.
From the perspective of a Western liberal, on the other hand, Jorge criticized Cuba for a government unable to function, devoid of sufficient resources, and lacking a clear sense of purpose. It is a government that stands in the way of its people, as witnessed by the taxi incident. To the extent that Cuba works at all, it does so not because of a flexible and competent government, but in spite of an arbitrary and rigid one. It does so not because of a coherent vision of Cuba's future, but because of a resourceful people and a rich culture. Cuba will surely benefit from Washington's current policy of encouraging people-to-people contacts between Cubans and Americans while steadfastly holding expanded relations hostage to a significant improvement in Cuba's commitment to human rights.

Our time in Cuba was magical, mystifying, and intense. We were there for a bit more than a week, and we returned intoxicated by the land and its people. We also returned with a more nuanced mental landscape, one that only strengthened our impression of Cuba as a land of extraordinary paradox.
©2000 The Massachusetts Foundation for the Humanities
Published in Mass Humanities, Fall 2000