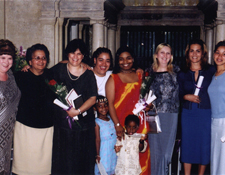 On the evening of Friday, June 23rd, 2001, a moving graduation ceremony at Holyoke`s Wisaria-hurst celebrated the achievement of the nine women who had just completed the Bard College Clemente Course in the Humanities. The course, which will begin its third year this fall at The Care Center in Holyoke, is a free, year-long, college-level program in five humanities disciplines, taught in community settings by college faculty. The students are people whose economic circumstances have limited their educational opportunities. Administered nationally by Bard College, the course is coordinated in Massachusetts by the Massachusetts Founda-tion for the Humanities, which also provides major fundinge. Holyoke`s Clemente program is unique in the nation in that it is offered exclusively for women.
As a pianist played in the background, the Music Room of the mansion gradually filled with family members and guests of the graduates, including a number of small children. In all, over 70 people attended. Care Center Executive Director Anne Teschner welcomed the guests, followed by writing teacher Barbara Tramonte, who spoke eloquently about each student`s distinctive achievement and contribution to the class. Course director Kent Jacobson acknowledged the dedication of the five faculty members. Most powerful, though, were the voices of the graduates themselves. Selinia Vazquez, the senior member of the class, spoke for the graduates in describing the year`s experience; and the whole group joined in presenting amusing individual awards to the faculty.
The graduates designed the next part of the ceremony to honor those who had inspired and supported them through the course. As each graduate`s name was announced, a family member or friend came forward to present the diploma: Surilynn Vazquez`s mother, who had traveled from Puerto Rico; Selinia Vazquez`s two grandsons; Damaris Santiago`s sister. As Jacobson rose to read a final poem, graduate Rose Treat came forward and asked to say a few words of her own. She began by recounting how she had dropped out of the course the year before and had been invited by Jacobson to try again this year. Noting that "you don`t get many second chances," she thanked him for his faith in her, then paid tribute to each teacher and to her classmates.
The Clemente Course in Dorchester has received support from the Clipper Ship Foundation, the Millipore Foundation and Tucker Anthony and individual donors.
©2001 The Massachusetts Foundation for the Humanities
Published in Mass Humanities, Fall 2001