by Hayley Wood

ON A QUIET SUNDAY in downtown Lowell, a group of children gathers for an afternoon of dance rehearsal. Cars pull up to the sidewalk and young people spill out: a jumble of bell bottoms, spiked hair, sneakers, backpacks, portable CD players, and platform shoes. The adult troupe leader, on the scene with keys, lets everyone into the large mill building that is now a charter school. Thus begins the weekly rehearsal for the Angkor Dance Troupe, a traditional Cambodian dance troupe composed of Cambodian American children and teens. Documentary filmmaker Julie Mallozzi has been filming the group for a year and a half, focusing on the lives of three teenaged dancers; the working title of the film is Monkey Dance, after a classical Cambodian dance that is the signature piece for the troupe.
Mallozzi received a pre-production grant to work on Monkey Dance from MFH in December 2000. She had recently completed Once Removed, a documentary also funded in part by MFH, about her trip to China to meet her mother`s family. She first learned about Angkor Dance Troupe from a news article on an eight-week youth program sponsored jointly by the Lowell Police Department, the Big Brothers/Big Sisters of Lowell and Angkor Dance Troupe. The goal of the program was to steer young people away from gangs by encouraging their involvement with Cambodian dance. As she visited the troupe to observe the program, she realized it was a small aspect of the troupe`s ongoing work of regular rehearsals and performances. The troupe is professional, one of the best-known Cambodian dance troupes in the country. They have performed at Jacob`s Pillow, the Boston State House, and the White House, and the young dancers often speak at these events.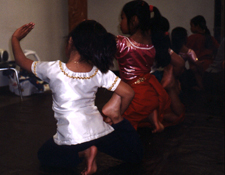 As Mallozzi observed the troupe as a whole, she began to envision an hour-long documentary film about young Cambodian Americans. She became interested in the troupe`s interpretation of the Monkey Dance. In their unique cross-cultural version, the monkeys, played by boys, celebrate a battle victory; classical dance movements and Khmer music meld into break dancing and popular music. Initially intrigued by the blending of contemporary African American and Asian dance, Mallozzi began to focus on the identity issues of the dancers who incorporated aspects from many different cultures-Cambodian, African American, Latino, white, and Laotian-in their lives.
Mallozzi`s own experience, having a Chinese mother and an Italian father and growing up in an Ohio community with few ethnic minorities, sharpened her awareness of how culture informs identity. She found, however, that cultural and racial identity is an ellusive theme. She observed, "Identity is something very hard to capture on film. It`s very interior, very personal. It`s not static-it does change-but it changes in subtle ways that are hard to film." Later she made a thematic shift in focus from the identity politics of her subjects to the competing value systems that they all negotiate. Traditional Cambodian, American consumer, "white liberal," and urban-gang value systems are the four that Mallozzi has identified as being most influential in the lives of her subjects.
Mallozzi approached the Foundation halfway into the process of filming her subjects. She requested funding to consult with scholars, produce a trailer, and write a full production treatment that will be used in the next phase of fundraising. Commenting on the role of the humanities in conceptualizing her project, she noted:
Part of coming up with this idea is humanities-related. Getting a grant from MFH and going through the process of writing the proposal and talking to scholars-it does make you separate yourself and think in a broader way about conceiving your project. When I`m filming, [the humanities perspective] gives me more general ideas to look for even though the things I`m filming are detailed. . . Otherwise I`m just filming and filming and filming, and what ties it all together? Where`s the story? Why is this important? Why are we watching these people?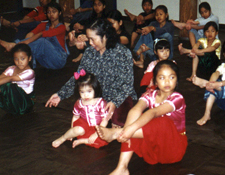 Mallozzi has lent her subjects video cameras to capture their day-today lives. Having taught classes in video diary, she felt that the style would appeal to a young audience. The documentary will air on PBS and Mallozzi also plans to distribute it to national youth programs in order to generate discussions on value systems and connected life choices.
Mallozzi describes the style of the emerging documentary as "very multifaceted, almost an Internet style." In addition to adding a particular style and texture to the film, the teen-shot footage will provide content and drive the stories of the main subjects. Mallozzi hopes that the young people will be able to film some of their more personally challenging moments. It has been difficult to gain access to the moments of conflict in their lives, partly because of the natural dilemmas around gaining access to the private world of family conflict. In addition, as Mallozzi puts it, "People often associate Cambodian, `at risk` youth with gangs, and I didn`t want to make a gang film. But as a result I`ve chosen a group of kids who have made these positive choices, so their interface with those other issues is a little happenstance. It`s a part of their lives but it`s hard to find a way to delineate that fact. The way I see it is that just outside their door are a lot of challenges. They`ve made positive choices, but all around them are the alternatives."
The alternative of being a part of Angkor Dance Troupe requires a high level of commitment and discipline. Weekly rehearsals are four hours long, and there are several performances a year. The main instructors are Phousita Huy, Artistic Director and former faculty member at the Royal University of Fine Arts in Phnom Penh, and Tim Chan Thou, the troupe founder and Coordinator. Tim Chan Thou is also the father of one of the principal subjects in the documentary, Sopheap Sou whose American name is "Linda. Samnang Hor, who dances the leading acrobatic monkey role in the troupe`s famous Monkey Dance, also teaches sections of boys, and older girls lead small groups of younger girls. Mallozzi`s third subject, Sophy Leng, has leading roles in the troupe`s dances and instructs younger girls.
The troupe practices an emerging trend in youth groups: it pays the dancers a nominal fee for performing, and the members who teach the younger children are also paid. This modest payment helps make participation in the troupe a viable alternative to getting a job. The lure of the part-time job is strong; it`s one of the major decisions that the teens in Mallozzi`s film negotiate. With a job comes some buying power, but getting a job generally means that one will not have time to participate in groups like Angkor Dance Troupe.
It`s not possible to consider the individual lives of the young dancers without contemplating their historical context as the children of refugees. Angkor Dance Troupe is a testament of cultural survival in the aftermath of the Khmer Rouge genocide that nearly destroyed the artistic community of Cambodia. The directors of the troupe and the parents of the participating children have all endured the severe hardships that accompany fleeing genocide. While it`s unclear how the young Cambodian Americans perceive this legacy, there is no doubt that their lives are influenced by it. Many young people in Lowell`s Cambodian community have a limited amount of time with their parents, many of whom work different factory shifts or take home work. Family dynamics are often affected by economic disadvantages. Last year Mallozzi visited Cambodia with Tim Chan Thou and his daughter Linda. Several days into the trip Linda observed that the pace of the Cambodian life seemed more peaceful and family-oriented. She said, "If it weren`t for the whole Khmer Rouge-Pol Pot thing, I think my parents` lives would have been better in Cambodia than America."
Lowell, with its huge 19th-century textile mill buildings, canals, and decaying feel of old urban New England has a population of a little over 105,000. According to the 2000 census, 17 percent are Cambodian: around 18,000 (unofficial estimates are much higher: 20-30,000). One can only begin to appreciate the gulf of difference Lowell represented to a community of Cambodian refugees. In the mid-1980s, Lowell was designated by the federal government as part of a Southeast Asian Refugee Resettlement Program. It became a destination for 2,000 refugees, mostly Cambodian but also Vietnamese and Laotian. The city received federal support (due in part to the efforts of former Governor Michael Dukakis and former Congress-man-and current MFH board member-Chester Atkins) for their participation in the program. Cambodians continued to settle in Lowell because of the availability of low-skill factory jobs that didn`t require English language skills, the relatively low cost of housing, and the already established community. Diverse groups of immigrants have settled in Lowell since its founding as a textile manufacturing center. Today many distinct cultural and racial communities populate the city. Lowell, like most urban centers, is also gang territory. Gang violence is perceived to be subsiding, in part because of the efforts of community groups working collaboratively to provide creative options for young people.
Angkor Dance Troupe is blessed with the leadership of adults who are deeply and personally connected to preserving Cambodian dance and a dialogue between Cambodian and American culture. Speaking with Chhan Touch, husband of Phousita Fuy and the troupe`s former board president, during the rehearsal, I learned that he came to the US when he was 22 after having lived in a refugee camp in Thailand. He put himself through college and graduate school and is now a nurse practitioner at the Metta Health Clinic in Lowell. He spoke of his accomplishments and his commitment to the troupe with energy and conviction. He believes that discipline and structure bring out the best in children. Implicit in the troupe leadership is the belief that one way to encourage healing and success inthe world is to provide access to a traditional art form.
©2001 The Massachusetts Foundation for the Humanities
Published in Mass Humanities, Fall 2001