An Interview with Karilyn Crockett by Amy Hoffman

A modest brownstone in one of the few un-gentrified pockets of Boston`s South End houses MYTOWN, Inc.-the Multicultural Youth Tour Of What`s Now. Karilyn Crockett, the group`s founder and director, occupies a fourth-floor office at the top of the stairs, sharing space with a reference library, a couple of computer stations, and a ringing telephone. A group of seven or eight young people conducts a lively meeting around a table in an adjoining room, which is hung with lists handwritten on big sheets of newsprint. Occasionally one or another of them stops by Crockett`s desk to ask a question or fill her in on their latest decision.

MYTOWN has been offering walking tours of the South End, researched and conducted by Boston youth, since 1995. Crockett says she met with some skepticism when she first presented her idea for the youth-led tours to community residents and potential funders, who doubted whether street-smart kids would be appropriate guides for schoolchildren, tourists, and history buffs. But these days the tours are "almost too successful," she says. So many people want to take them that the organization may hire a staff person just to keep track of scheduling.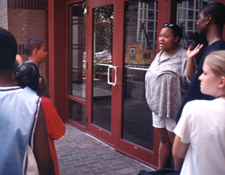 I tagged along on a MYTOWN tour of Columbus Avenue on one of the hottest afternoons of the summer. Despite the 90 degree heat, about a dozen intrepid walkers from the Cambridge Center for Adult Education had gathered at the A. Philip Randolph statue in Back Bay Station when I arrived. Our guide jumped up on the bench at the base of the statue, which made a convenient podium from which to talk to us about Randolph`s organization, the Brother-hood of Sleeping Car Porters, and the lives of the porters themselves, who settled in the streets around the train yards. Other stops on our walk included the Tent City affordable housing complex, built as a result of a protracted community protest; Southwest Corridor Park, in an area once slated to be "urban-renewed" into a 12-lane superhighway; and Wally`s Café, a venerable jazz club. At various times, our guide said, the South End had been home to Underground Railroad conductor Harriet Tubman, Martin Luther King Jr., and community activist and one-time mayoral candidate Mel King. At the end of the tour, the walkers thanked our guides, agreeing that what had made the experience meaningful was the chance to learn from the residents themselves.

I assumed that the tours` emphasis on contemporary history was the youth guides` choice, but when I asked Crockett, she explained that developing the tours` content had been a complicated process. The first step had been a community meeting, where residents identified places that were important to them and individuals who had stories to tell. The MYTOWN guides used these suggestions as the starting point for their research. Often, when young people enter the program, their understanding of history is what they`ve been taught in school-the colonial period, the presidents, and other "great white men." Only through the process of exploring local archives and conducting oral histories do they begin to understand the connection between their city`s history and their own lives.

MYTOWN is unique. Nothing quite like it exists anywhere else, although a program inspired by it was recently started in New Haven, Connecticut. This fall, Crockett plans to begin disseminating her brand of youth leadership training through local history research to other parts of Boston via the Neighborhood Partnership Initiative, a collaboration between MYTOWN and the Bostonian Society, funded in part by the Massachusetts Foundation for the Humanities.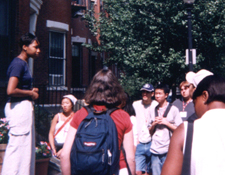 Karilyn Crockett grew up in Dorchester and attended Boston public schools through eighth grade. After high school at the Winsor School, she went to Yale, graduating in 1995 with a BA in anthropology. MYTOWN, she says, is her "first job out of college." The idea for MYTOWN did not originate in her academic training-"I`m not a historian or a social worker," she says-but rather in her combined experience of programs like Outward Bound and a family that had never forgotten its roots. She realized that many young people in Boston, especially those who are of color, immigrants, or poor, are missing what was a fundamental part of her own upbringing: a sense of home.
I asked Crockett what she means by a sense of home, and why it is so important. Why did she decide that this should be the focus of her entire program?

Karilyn Crockett: My family is originally from West Virginia. When I was growing up-and even now-my family life was full of stories of West Virginia, the Blue Ridge Mountains, the coal mines, farming, harvests. Through family stories and memories, I came to understand that West Virginia was a place that we knew and where we were known, a place of belonging and meaning. This was home. The irony is that I had never been to West Virginia. I had never even seen it, but clearly it was home.
From my family, I learned that the ideas of knowing and belonging are central to home. Do you feel attached to this place? Does this place include you? Home means that yes, there is a place for you. Unfortunately, Boston has not always extended that message to its residents. The city`s history is one big story of exclusion, displacement, and conflict-and attempts to overcome these things. This is also what makes Boston`s history so compelling as a teaching text for community building. We have many, many examples of how people were nearly forced out of the only homes they knew, but then organized themselves to challenge the economic and political forces that threatened them.
Many of the young people who come to MYTOWN say they don`t like Boston. The city doesn`t have anything to offer them. They don`t feel grounded in or connected to this place in any way. They would never even think to refer to themselves as Bostonians.
As long as this is the state of mind of the young people who live here, we can never hope to achieve a civil society. A participatory democracy is contingent on two things: 1) Each citizen feels a part of a larger community that includes and directly affects her; and 2) Accurate information is shared to enable citizens to explore their options for action and influence. MYTOWN`s programming is based on the idea that understanding and reconnecting with a sense of home is a crucial first step in helping the city`s young people create a truly democratic community. Our hope is that MYTOWN`s work will inspire our city to a higher, more inclusive vision of civic participation and prepare young people to lead us forward.
AH: How did you pull all these ideas together-home, history, the needs of young people?
KC: The seed of MYTOWN was an experience I had one summer afternoon right before my senior year of college. A longtime social justice champion, Greg Ricks, took me and a small group of college students on a walking tour of the South End and Roxbury. He talked to us about the history and development of Boston as an unfolding center of ideas, struggle, and victory. He talked to us about the history of the city beyond John Hancock and Paul Revere. He talked to us about Boston`s history before and after colonial and Revolutionary times. And he talked to us about the Irish, Puerto Rican, African-American, Russian, Lebanese, and West Indian families who helped to shape the city as we know it.
You rarely hear about these people. Their struggles and contributions have been rendered invisible. Leaving these communities out of the historical record means we do not fully recognize them as a part of our heritage. This is dangerous. It is a distorted view of how we got here and who is included in our community. MYTOWN strives to expand Boston`s telling of its own history by including ethnic and immigrant groups that are often overlooked and under-researched.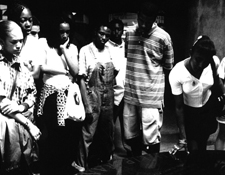 History teaches us that what we experience now is the result of decisions made by people before us. These decisions create a sort of road map of how we got to this point-and also enable us to imagine something different. What if Columbus had not stumbled onto America? What if there had been greater religious tolerance in England? What if there had not been a Nazi Holocaust? What if Martin Luther King were alive today? What would our world be like? History gives us an opportunity to explore how choices and decisions are made.
There is no guarantee that we will not repeat the mistakes of the past. All we can do is use our talents and the wisdom of those who have gone before us to face our daily challenges with openness and hope.
AH: How has learning about South End history and giving the tours helped the young people of MYTOWN gain their own sense of home?
KC: They have an opportunity to add their family and neighborhood stories to their larger understanding of the city`s growth and change. These stories also help young people learn about the power of local activism. When researching the history of her housing development, one youth guide, Michelle, was surprised to find out that her grandmother had been instrumental in organizing the tenants to create a housing cooperative. "I never thought of ordinary people doing things like that," she said. "You always think it`s famous people or civil rights activists who protest or get arrested. I never thought my grandmother would have been involved in something like that."
Michelle, like other youth guides, talked about how surprised she was to realize that local, "ordinary" people like her could effect great change and make a difference just by doing what they think is right in their neighborhood. This is one of the great lessons local history can teach.
AH: How do the MYTOWN guides deal with Boston`s history of racism and conflict among people of different ethnic and cultural groups, social classes, sexual orientations? I`m thinking particularly of issues like busing and gentrification, which are such a big part of the recent history of the South End.
KC: Many of the stories shared on MYTOWN`s tours are stories steeped in conflict. They can be controversial, like Puerto Rican tenants` organizing themselves to save their neighborhood despite the city`s efforts to "renew" it. Or Dr. King`s support of black parents` decision to boycott the Boardman School, which laid the ground for the legal fight that would lead to busing.
To understand these stories, the youth guides have had to think through what all the fighting and protesting was about. We ask them, "What would you fight for? What would make you mad enough to sit in and get arrested?" There is a lot of talk about how apathetic young people are today. We have found that when you take the time to help someone really understand a story-to encourage a person to feel the emotion of that story-its teaching power is unleashed. At MYTOWN we do lots of role plays, skits, and dramatic reenactments in which youth guides relive experiences like being on the Underground Railroad or arriving in Boston from Ireland. Through the role plays and discussions, the youth guides make the connections and experience the "aha, that`s why this is a big deal" moments. Often they are surprised and upset by stories of deliberate discrimination-jazz clubs that only welcomed white patrons, hospitals that would not treat non-white patients. These true stories often inspire frustration and outrage. And they should.
When youth guides tell these stories with detail and conviction, the injustice becomes clear. The tours create safe public spaces for audiences of all ages to deal with some of the most challenging and difficult issues of our nation. There is no need to preach; there is no need to belittle one ethnic group for the sake of celebrating another. There is only a need to tell the story and to try to get it right.
AH: Can you discuss how your experiences at Outward Bound and other leadership programs influenced MYTOWN?
KC: Before starting MYTOWN, I worked at the Thompson Island Outward Bound Education Center for two summers. This Outward Bound site was unique because, at the time, its base population was primarily urban young people. Working there showed me how experiential and team-based learning can be transfered from ropes courses and boat handling to solving problems in an urban setting.
I also received a formal orientation to community-based leadership through my participation in Project REACH. Designed for black and Latino college students living in Boston, Project REACH aimed to create a corps of community-based leaders. We received training in group dynamics, power relationships, and team building. We also met Bostonians who were working to make a difference, like local business owners and community activists who had committed themselves to making Boston`s neighborhoods more livable and equitable. Project REACH taught me how important it is for activists to build networks and to see each other as essential resources for community building.
In my personal and professional experience, the best leadership development programs emphasize independent, critical, creative thinking. For a long time, this was believed to be independent work, but I am now convinced that, at its most effective and compelling, this kind of thinking is truly a group effort.
AH: How has MYTOWN grown and changed over the years?
KC: MYTOWN evolved as we tried to address the needs of the teenagers we were working with. Each of the more than 100 young people MYTOWN has employed to date has made a lasting contribution to MYTOWN`s development. From our basic approach to public speaking, to community service, to social justice trainings-each feature of MYTOWN was added as a response to what young people said they were not getting in school but felt they should be learning. In this way, we`ve developed a youth-focused, youth-led program that allows us to work with a broad range of young people. Our three programmatic cornerstones are local history, community service, and leadership development. The young people have helped us create a program that is structured enough to remain consistent each season yet flexible enough to respond to a wide variety of participants from across the city, from those who are very academically motivated to those who are not.
AH: I notice that you said MYTOWN "employed" the young people. Why did you decide to pay the youth guides instead of having them volunteer?
KC: For me, that was a "no-brainer"-although I had some trouble convincing funders that the guides should be paid. Most of the youth are from working-class and lower-middle-class families; many qualify for free lunch at school. If MYTOWN didn`t pay them, they could not participate. They would have to find jobs. At this point, I think everyone involved with MYTOWN "gets" this. In fact, recently a board member asked, "Isn`t it time to give them a raise?"
AH: Can you explain what you call the "phases" MYTOWN guides go through and the kinds of responsibilities they learn in each?
KC: After MYTOWN`s first term, many young people wanted to come back, and since they knew more about leading tours and researching information, it made sense that they should be given more responsibility. This was the beginning of our four-tier leadership structure. A young person who is just beginning with us is an alpha. Alphas are brand new hires who don`t know much about Boston or MYTOWN. Their main task is to learn as much as they can in order to become effective tour guides. After successfully completing one 200-hour term, an alpha can be considered for a promotion to the next leadership level. Each move, from alpha to beta to gamma to delta, brings with it additional responsibilities that extend beyond knowing the information on the tour to supervising other youth guides, designing trainings, and managing payroll. Each level of responsibility is intended to strengthen the youth guide`s development of competencies in four areas: leadership, communication, critical thinking, and knowledge of self. This structure works well because it allows us to retain some of our strongest leaders while creating a peer management structure to organize and support the youth guides` daily work.
AH: Can you tell us about your new project, the Neighborhood Partnership Initiative?
KC: In the first five years of MYTOWN`s existence, we have learned a lot about how the teaching of local history can be an effective community education and organizing tool. We`ve also learned how to develop leadership in teenagers. The Neighbor-hood Partnership Initiative is a joint effort between MYTOWN and the Bostonian Society that will teach three neighborhood-based organizations in other parts of Boston about how to involve young people in projects that explore community history and contemporary issues. The projects will not necessarily be walking tours like MYTOWN`s. They could be exhibits, websites-whatever makes sense for a particular group. The initiative will give us the opportunity to share the lessons and successes of our work. We are thrilled to be working with the Bostonian Society because of its ongoing commitment to using history as a way to bring our city together. The major grant from the Massachusetts Foundation for the Humanities is significant for us, because it represents an endorsement of our particular approach to gathering and sharing community history.
Amy Hoffman is Program and Development Officer at the Massachusetts Foundation for the Humanities.

©2001 The Massachusetts Foundation for the Humanities
Published in Mass Humanities, Fall 2001