by Ellen K. Rothman

Tim Neumann, Executive Director of Pocumtuck Valley Memorial Association (PVMA), arrived at the Deerfield museum in 1975, fresh out of the Harvard Graduate School of Education. His first official position was "Curator of Memorial Hall." Since this was the only professional position at the PVMA at the time, he functioned as Director of the organization as well. He was given the title Executive Director in 1983.

At a time when so many Massachusetts history museums are struggling to stay afloat, PVMA has consistently impressed the Foundation with its high-quality programs, its ability to grow, its commitment to collaboration, and its willingness to take risks. Although not widely known, PVMA deserves a place on any short list of the state`s leading humanities institutions. The Foundation`s Associate Director, Ellen K. Rothman, has worked with Neumann and his staff on a number of applications to MFH over the past six years. She talked to him about the museum`s long history, its current initiatives, and future plans.
Ellen K. Rothman: What was it like when you first got here?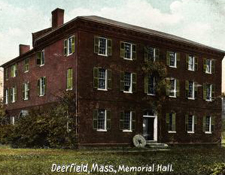 Tim Neumann: The organization had been through a period of decline since its "glory days" in the late nineteenth century, and was still fragile when I arrived. In fact, the president of the PVMA board, Russ Miller, warned me when he hired me not to count on having a position for the long term. He predicted that in another two or three years PVMA might merge with Historic Deerfield, Inc. I took that as a challenge — I had no intention of holding a deathwatch over what was then a 105-year-old institution (now 130!).
Mr. Miller further instructed me that I was free to do pretty much whatever I wanted in Memorial Hall; the only constraint was that I not "rock the boat." I abided by the first part of those instructions, but completely ignored the second. Growth always rocks the boat.
Working conditions were very difficult. A storeroom served as the office, but since I had to cover the museum`s front desk six days a week during the six months the museum was open, I did most of my work with my typewriter balanced on my knees sitting at the museum`s front door. I took admissions, an-swered questions, and sold a few books, candy sticks and souvenir trinkets, while I worked on new programs and fundraising. Growth was slow at first, but after about five years we were able to afford paid support staff and I was able to concentrate more on education and management issues.
The pay scale was incredibly low at the beginning, too. I had to moonlight to make ends meet until 1984, when I could concentrate fully on PVMA. Our greatest growth began at that point.
EKR: Could you give me a brief history of the institution?
TN: The Museum began in 1870 with a group of local people who were concerned that the younger generation knew little of the region`s history, especially the 1704 French and Indian attack on Deerfield, in which the town was nearly destroyed and a quarter of the population taken captive. The goal of the Pocum-tuck Valley Memorial Association`s founders was to "memorialize" the past through monuments, public commemorations, and written histories. It was soon apparent that the community had a wealth of documents and artifacts "from the olden times," so the Association began collecting. Before long, it needed a home for the collections. In 1877, Deerfield Academy`s original building, designed by Asher Benjamin in 1799, became available. George Sheldon, who was both the town historian and a founder of the Museum, moved the collection there and opened the building to the public. It was the first historical museum in Western Massachusetts and the first museum in the U.S. to display permanent period rooms.
EKR: Isn`t the Essex Institute in Salem usually credited with that "first"?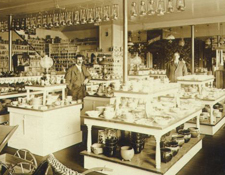 TN: Yes, but their period rooms actually date from the turn of the century. This is not a small point, since it establishes PVMA as an early innovator and leader in the museum field. Memorial Hall Museum was collecting and interpreting American material culture a generation before the elite cultural institutions in Boston and New York.
After George Sheldon`s death in 1916, the Association entered a period of decline that lasted through the Great Depression and World War II. In the late 1940s, there was renewed interest in the PVMA. The leadership and financial support of Henry N. Flynt was key. A successful lawyer from Greenwich, Connecticut, he and his wife became extremely interested in Old Deerfield while their son was at Deerfield Academy. Although Henry Flynt did not leave PVMA an endowment, he led the campaign to rebuild Memorial Hall and add the wing that houses the library. Flynt served as President of PVMA from 1952 until his death in 1970. During these same years, he also established a new historic house museum in town, at first called the Heritage Foundation and renamed Historic Deerfield, Inc. in 1972.
EKR: Don`t people often confuse PVMA with Historic Deerfield?
TN: Indeed they do, and it has always been a tremendous fundraising challenge to be in the shadow of our Deerfield neighbors (Historic Deerfield, Inc., and Deerfield Academy). There are many pluses to having these cooperative and supportive neighbors — they have helped us many times. But PVMA is greatly hampered in attracting financial support because people almost always think we are part of Historic Deerfield, Inc. or the Academy, or that like them, we are wealthy and well endowed, which we are not at all.
EKR: All the more remarkable that you have managed to do as much as you have.
TN: My goal was to get PVMA to the size where it could most effectively share its wonderful collections with the public. We are not quite there — especially in terms of financial resources. Our vision far outruns our ability to fund it. But we`ve made great strides. The Museum`s operating budget has grown from a mere $20,000 in 1975 to over $1,900,000 in 2002; our staff from two part-time employees to 50 full- and part-time paid individuals, including 13 trained museum professionals. This staff has raised the standards of care for the collection, added to the collections, created educational and cultural programs of high quality, and is instituting Internet-based programs. I`m especially proud of the work we`ve done over the past 25 years to make the Museum more inclusive.
EKR: I know PVMA has worked hard to change the way it interprets the history of Native Americans in New England. Can you tell us what you`ve done and why?
TN: The organization`s name itself comes from the Native people of the Deerfield River Valley — the Pocumtuck. PVMA inherited a well-meaning but flawed commitment to honor the local Indians who the founders believed had "vanished" before the English arrived in the area. Memorial Hall was dedicated to memorializing both the Indians and the English settlers, but this was done solely from the English point of view. About 20 years ago, we began working to include a Native American perspective in all our exhibits and programs.
EKR: Didn`t you completely reinstall what was called the "Indian Room" exhibit a few years ago?
TN: Yes, in 1991 a scholarly symposium on "Algonquians in New England" was held in Deerfield. Native people and scholars evaluated the Indian Room. An advisory committee composed of a Native American, an ethnohistorian, and an educator worked with PVMA curator Suzanne L. Flynt to design the reinstallation so it would reflect the Native American experience. The committee determined exhibit themes and decided to highlight the continuity of Native people`s presence in New England up to the present day. We received a grant from MFH to add contemporary Native artifacts and photographs; other objects — for example, those related to burials — were excluded. Prior to the opening, the Native advisor provided a day of training to all Museum staff.
EKR: What was the response?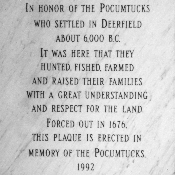 TN: The overwhelming response from visitors was positive, and in 1993, "Introducing a Native American Perspective" won the New England Historical Association award for best exhibit. We have continually worked to improve the exhibit. We created an audio program with readings and stories. Visitors can hear Native people telling the story of Eunice Williams, the minister`s young daughter, who was captured in the attack on Deerfield in 1704 and chose to remain among the Indians in Canada. Another change was the addition of a plaque honoring the Pocumtucks, since the Victorian era plaques memorializing English settlers did not support the new interpretation.
EKR: The 1704 attack was probably the most famous event in Deerfield history. It was part of a war between England and France for control of the Spanish throne and was also a significant battle in the struggle between the British colonists and the Native communities who had lived here long before the Europeans arrived. What exactly happened?
TN: Two hours before daybreak on February 29, 1704, 47 French and 200 Abenaki, Pennacook, Kanien`kehaka, and Wendat soldiers on snowshoes launched a surprise attack on the village of Deerfield, which was the northwestern frontier of the New England colonies. Over half of Deerfield`s 291 inhabitants were killed or captured and many of its structures burned. The French and Indian force quickly retreated to Canada with their captives, many of whom never returned. The English forces did not have snowshoes, and were unable to overtake the French. The attack was a triumph of diplomacy and military strategy for the French. They had forged alliances with the Native nations, and by adopting a Native American technology (i.e. snowshoes), they succeeded in moving large numbers of men 300 miles through the snow.
EKR: How is PVMA going to mark the anniversary?
TN: The attack provides an unusual opportunity to explore global issues while offering a compelling focus for teaching about the complexities of early American history. We`ll have scholarly events, exhibits, media and general public programs beginning in the fall of 2003 and running through 2004. One major project is an entirely new on-line exhibit exploring the divergent views of participants in the 1704 attack. We received an NEH planning grant and have just been awarded $290,000 for implementation. With a grant from MFH, we have joined forces with WFCR in Amherst to plan a series of radio segments, "Many Stories of 1704," for broadcast on public radio stations.
EKR: A few years ago, PVMA embarked on an incredibly ambitious project for an institution of its size. Can you tell us about "Turns of the Centuries"?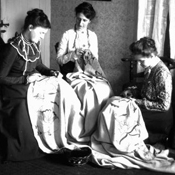 TN: The first thing to say is that the project is now called "American Centuries: the view from New England." (The URL is www.americancenturies. mass.edu) It grew out of a Massachusetts Cultural Council program designed to build relationships between cultural organizations and schools so as to bring about systemic change. After a year of planning, we came up with the idea for the "Turns of the Centuries" curriculum. On the eve of a new millennium, we set out to develop and help teachers use a curriculum that would reflect the state`s new History and Social Science frameworks by focusing on three other turns-of-the-centuries — 1700, 1800 and 1900. The end product was to be a website with curriculum materials drawn from PVMA`s collections. This on-line aspect of the project turned what would have been a local museum-school partnership into a nationally recognized model. Beginning with three years of funding from the MCC and MFH, we were able to compete successfully for major grants from the National Endowment for the Humanities and the federal Institute for Museum and Library Services.
EKR: I`ve heard people talk about what an exciting project "Turns" is; they often say "but it`s not replicable." Do YOU think it is? What would it take?
TN: A project on this scale is only replicable in an institution that is 100% committed to education and willing to work collaboratively. One of the reasons I, an educator, was hired as PVMA "curator" back in 1975 was the institution`s commitment to developing school programs. I was given a mandate to create educational programs worthy of the collections.
One thing to keep in mind, too, is that the project grew incrementally. Our initial planning grant was only $10,000; the MCC and MFH awards were manageable amounts of money. The huge federal grants came later as the project matured, and even those started off relatively modestly. We had a vision of some of the things we could do, but we did not foresee the project growing this large. An organization needs to take advantage of opportunities as they come along, and that`s what we did.
EKR: Another example is the application you and the Franklin County Professional Development Collaborative submitted to the U.S. Department of Education last summer. Yours was one of only two Massachusetts projects to be funded. That was a real coup.
TN: Yes, this was a huge accomplishment for us. Together with the Collaborative, we were awarded $999,000 to improve the teaching of American history in the Franklin County public schools over a three-year period. The original "Turns" project involved a dozen teachers; now we`ll be working with 100 teachers a year. In addition, the grant provides seed money to establish a permanent American History Teachers` Center at PVMA.
EKR: You obviously believe in the partnership between museums and schools, and you have managed to convince a lot of funders to support you. What`s your secret?
TN: We have four "secret weapons" we`ve used to convince funders that our partnership with the school district deserves support. First, PVMA set a good example by investing a significant amount of its own operating funds from the beginning. Secondly, PVMA and our partners have delivered more than we promised in each of our grants. Thirdly, we have had tremendous cooperation from the school district(s) — both the administration and the teachers, and funders are impressed with this record of cooperation and commitment. And, fourthly, as a project that stresses serious, historical content for teachers, we have involved a group of highly respected academic historians. The participation of such distinguished scholars testifies to the high quality of the content we are presenting. One other asset is our terrific grant writer, Louise Neidle, who has worked with me on the project from its inception.
EKR: Attendance at history museums has tended to be flat or falling in the past few years, and many people are worried about what the future holds for institutions that have to bear the costs of preserving and interpreting their collections without large endowments or wealthy donors. What do you see as the greatest challenges facing PVMA and museums like it?
TN: PVMA is a community-based museum. Even though our single largest project, the American Centuries website, has received a lot of national funding, our day-to-day operations are supported almost exclusively by sources in Western Massachusetts. The challenge is to build stronger connections with this community in an age when many people have little or no tie to a place or its history. Why care about the Connecticut River Valley if you are only going to live here a short time?
On a philosophical level, museums without wealthy supporters or large endowments have no choice but to operate on a very democratic principle: If you do not have the support of the public, you cannot survive. Outreach is an ongoing process. The challenge for us smaller institutions is to find the best means of reaching each new generation.
EKR: Do you think there`s a problem of "saturation"?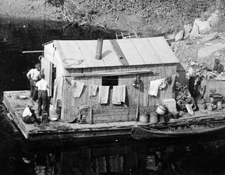 TN: Yes. I wonder if we have more museums, historic houses and local historical societies than the community can possibly support. Can like-minded institutions find enough common ground and mutual trust that collaborations, joint ventures, shared professional staff, confederations, and, dare I say, mergers, are possible without weakening mission and vision? What a powerful locally focused Franklin/Hampshire institution could be created, say from combining the resources of PVMA, Historic Northamp-ton, the Porter-Phelps-Huntington Foundation in Hadley and the Strong House in Am-herst.
EKR: Where do you hope PVMA will be in ten years?
TN: In the next ten years, we`re going to expand our campus to include a new Museum of American Democracy in the former Old Deerfield Town Hall. This new museum is the heart of what we`re calling the "Acropolis Project."
EKR: I know the building has a beautiful neoclassical façade. Is there more than an architectural connection to ancient Greece?
TN: Yes. The Old Town Hall, along with the town office, firehouse, and grammar school, has been the cultural, educational, governmental, and civic center of Deerfield for over 125 years. Like a Greek Acropolis, this cluster of buildings represents the soul of an entire American age.
EKR: What exactly will happen in this new "Acropolis"?
TN: The Old Town Hall will be alive with plays, concerts and community activities; exhibits will tell the story of participatory democracy in New England towns. The former grammar school`s first floor will be a high-tech facility for teachers of American History and an Eastern European Center focusing on the Polish immigrants who settled in the Pioneer Valley. The second floor will be turned into an art museum, devoted to work produced by seven generations of one local family of artists as well as work by other artists in the region; an entire wing will be dedicated to the remarkable photographs taken by Frances and Mary Allen. The Children`s Museum at Indian House will have a Native American Long House, Pocumtuck Indian Teachers` Center, and an indigenous peoples education staff. Memorial Hall will have interactive, computerized exhibits carefully integrated into the historical Victorian ambiance. Our library will be a full service research center. And, of course, I will have a development staff of at least three highly skilled professionals to continue to build our constituency and write grant proposals to MFH. PVMA got this far without any development office at all; think of what we can do with all that help!
EKR: I can`t wait.
©2002 The Massachusetts Foundation for the Humanities
Published in Mass Humanities, Fall 2002