Hayley Wood

Over four years after receiving his first MFH grant for The Political Dr. Seuss, filmmaker Ron Lamothe has completed the 90-minute documentary. It will be broadcast on PBS's Independent Lens on October 26. The film interweaves narration, expert commentary, archival footage, and a treasure trove of stills, including Dr. Seuss's famous illustrations and photographs from his youth. The film tells the story of Theodor Seuss Geisel's life, focusing especially on politics and how Geisel used his art and humor to express his views on topics ranging from World War II fascism to the arms race.
Historian Richard Minear of the University of Massachusetts at Amherst served as the film's chief humanities scholar. Minear is the author of Dr. Seuss Goes To War: The World War II Editorial Cartoons of Theodor Seuss Geisel (1999), the first book to put Dr. Seuss and his works in a political context.
Theodor Seuss Geisel was born to a well-off second-generation German family in Springfield, Massachusetts in 1904. After graduating from Dartmouth College in 1925, he went on to Oxford University expecting to earn an advanced degree in English literature.However, after a year as a graduate student, during which he met his future wife, fellow American Helen Marion Palmer, Geisel toured Europe for several months and then returned home in 1927.
Determined to start a career as a cartoonist, Geisel submitted work to New York editors. He sold his first cartoon to the Saturday Evening Post; it appeared on July 16, 1927 and was signed "Seuss." On the strength of this success, Geisel moved to New York. His breakthrough job was offered to him by Judge Magazine, a social humor weekly, where he was writer and artist for $75 a week. It was while working for Judge that he added "Dr." to his signature to stand for the doctorate he didn't receive at Oxford. He started to earn a handsome living when he secured a lucrative advertising contract with Standard Oil of New Jersey, the company that made Flit bug spray.
Geisel had illustrated five books, most of them for children, before he began creating political cartoons for the new, leftist tabloid newspaper, PM, in 1941. His view was straightforward: America needed to join World War II to defeat European fascism. The Roosevelt administration was eager to intervene, but F.D.R had made a campaign promise that American soldiers would not be sent to fight foreign wars, and the notion of the U.S. joining the conflict was far from popular at the time. Hitler was prominently lampooned in most of Geisel's PM cartoons. The second most featured public feature was Charles Lindbergh, whom Geisel relentlessly portrayed as a Nazi sympathizer and isolationist (another recurring Geisel character was the ostrich).
After the attack at Pearl Harbor, the Geisels moved to California, where Geisel had an Army commission with Frank Capra's Signal Corps unit: a Hollywood studio for making war propaganda films known as "Fort Fox." In uniform, he produced weekly training pieces, animated shorts, and lengthier documentary films.
After working in major studios as a screenwriter for seven years, Geisel decided to work exclusively on children's books. He and Helen bought a home in La Jolla in 1948 and lived there full time. It was here that the Dr. Seuss known to so many hit his stride. His political didacticism and allegorical bent were not gone, rather they were more fully developed, and themes he had explored as a political cartoonist and wartime filmmaker made their way into his best-loved classics.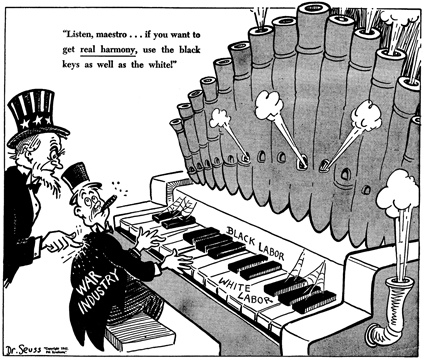 Anti-isolationism is espoused in Horton Hears a Who (an allegory about the need for the U.S. to help Japan after the war), racial equality in The Sneetches, anti-authoritarianism in Yertle the Turtle, anti-materialism in How the Grinch Stole Christmas, and environmentalism in The Lorax. Horton and Yertle had predecessors in the PM cartoons. The arms race is criticized in The Butter Battle Book, which continues to inspire very good classroom discussions, as viewers of The Political Dr. Seuss will note during a memorable scene at Amherst's Wildwood Elementary School in which the fourth-grade class discusses the Cold War, conflict resolution, and the nature of allegory.
The Butter Battle Book was Geisel's most controversial work, criticized widely for being too frightening for children and for not using the typical happy ending format. Responding to an interviewer who asked if he had second thoughts about tackling the nuclear threat in a children's book,Geisel responded, "I thought it might be too much, but evidently it isn't . . . . Given a certain amount of vocabulary, I think kids can comprehend anything.As far as the ending goes, I think kids can argue about it."
In 1957, Geisel established the Random House Beginner Books series with the publication of The Cat in the Hat, which was written from a list of 225 easy-to-read words. In spite of this daunting limitation, the book (and later the series) was a huge success with children, parents, and educators. Even The Cat in the Hat is subversive and about flouting authority, although order is restored in the end.
Geisel saw himself following in the tradition of nonsense and fantasy writers such as Edward Lear, Lewis Carroll, and P.L. Travers. At a 1949 writers' conference at the University of Utah, he laid out his philosophy of children's literature: "This is the crux," he lectured. "A man with two heads is not a story. It is a situation to be built upon logically." Seuss often spoke about the books he read as a child, which fostered in him a love of words and rhyming verse—titles such as The Hole Book by Peter Newell and the Goops books by Gelett Burgess, as well as The Bad Child's Book of Beasts and Cautionary Tales for Children, both written by Hillaire Belloc.
[Read an interview with filmmaker Ron Lamothe about "The Political Dr. Seuss"]
---
©2004 The Massachusetts Foundation for the Humanities
Published in Mass Humanities, Fall 2004