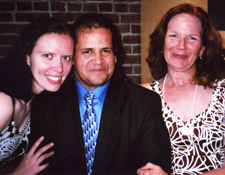 With tears, embraces, heartfelt speeches, and the blend of solemnity and exuberance that marks all graduation ceremonies, the three Massachusetts programs of the Bard College Clemente Course in the Humanities celebrated the achievements of 40 new alumni—7 men and 33 women—in evening exercises and receptions during the week of June 11th. The Class of 2007 includes 12 graduates of the New Bedford program, 20 from Boston, and 8 from Holyoke.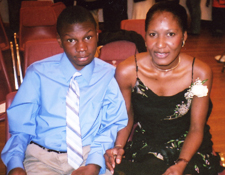 The Clemente Course, offered in three community settings in a partnership between MFH and local service agencies, is a college-level introductory course in five humanities disciplines: Literature, Moral Philosophy, American History, Art History, and Writing/Critical Thinking. Classes, which meet for two hours twice a week through the academic year, are taught by college faculty; the students are low-income adults. Instruction, books, childcare, transportation, and a variety of cultural activities are provided without charge. Students completing the class at a high level of achievement earn six transferable credits from Bard College.
The graduations took place in elegant and handsome settings: the auditorium and entry hall of the New Bedford Whaling Museum, the Great Hall at Codman Square Health Center, and Holyoke's Wistariahurst Museum. Each ceremony was followed by a reception at which the graduates enjoyed refreshments and mingled with their teachers, many family members and friends, and supporters of the course. The excerpts below are from the remarks of student speakers.
---
Julia Legas, our Philosophy professor, saw our characters and strengths and helped us understand goodness, justice, duty and morality. We became her scholars. We now know how to define the highest good and revel in our life experiences because our actions show that we are conquering the demands of life.
–Patsy Williams, Boston
I would like to say thanks to each of our wonderful instructors for enhancing each of our lives with the passion for education and positive, energetic flair. You each opened my eyes to something I was previously blind to, and I feel I cannot express my gratitude enough.
–Abbie Saunders, New Bedford
Clemente has taught me to think, listen and respond in a different voice, a voice that many of us have and tend to ignore. . . . Clemente has assisted me in taking my time to listen to what is being told and to explore aspects of the readings in a different angle and without prejudices. I am thankful for having the opportunity of exploring my talents and myself.
–Rosanna Lopez, Holyoke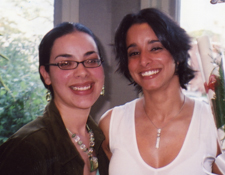 I have been a nurse's aide for 15 years. I'm a caretaker; it's what I do. My plan is to climb the ladder of success one step at a time and graduate with a degree in nursing. The Clemente program has given me the push I needed to begin my educational journey.To my classmates, my peers, my friends: I wish you much success in finding "the good life." To my mom: thank you for being there for my children when I'm unable. To my son and daughter: education Sis important! Your only limitations are the limits you put on yourself.
–Teri Melo, New Bedford
This program is a way to start your life towards a new direction. . . . I want to make a difference and be able to help people. I see a vision of having my own practice, my title on the door under my name: Psychiatric Therapist. This course has given me the hope and desire to better myself and help the Hispanic community by utilizing my linguistic skills. I plan on continuing my education by pursuing a major in Psychology. I chose this field because I want to show people that there are certain professionals that do care about their problems and are there to help get them through difficult times.
–Raquel Figueroa, Holyoke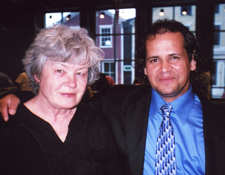 Opportunities are like the stars in the sky, too numerous to count; that is what the Clemente Course in the Humanities was to me, a missed opportunity in my life recaptured. . . I'm a Black Afro American woman, mother and grandmother 56 years of age. Being a fulltime mother was a wonderful opportunity but it required me to put my education on hold. . . . I'm back on track with my college education, with a goal and determination to complete it.
–Ethel Woodard, Boston
The 2007 Clemente program in Massachusetts was made possible with support from the Massachusetts State Legislature through the Department of Education, as well as donations from many private individuals, corporations and foundations, to whom we are grateful, including the following major supporters: the Herman and Frieda L. Miller Foundation; University of Massachusetts Dartmouth; Citizens Bank Foundation; Lyda Kuth; Harvard Pilgrim Health Care; and Paul and Martha Samuelson
---
©2007 The Massachusetts Foundation for the Humanities
Published in Mass Humanities, Fall 2007