by Hayley Wood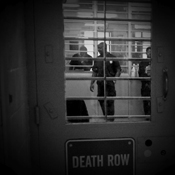 Making a documentary film and distributing it ain't what it used to be. For those in the educational media business, Web 2.0-style social networking, web streaming, and curated web media festivals have emerged as promising means of distributing full-length films, short films, discussion guides, and related materials. Does it all add up to a larger audience and the mobilization of activists who can work to promote awareness of pressing issues?
For a topic as important as the influence of the media on Americans' perceptions of crime and race, one hopes so. Emmyaward-winning filmmaker Rachel Lyon, who recently completed the documentary Race to Execution and its 12-minute companion piece, Juror Number Six, has marshaled current web technology to broadcast information and perspectives on the connection between race and capital punishment. Several partner organizations such as the Charles Hamilton Houston Institute on Race and Justice at Harvard Law School, the Center for Communications and Community at UCLA, and the Berkman Center for Internet and Society at Harvard Law School are promoting the films, hosting screenings and conferences to address the sobering fact that minority defendants are up to 30 times more likely to be sentenced to death than a white defendant convicted of the same crime.
The effect of the media's reportage of crime and the disproportionate attention it gives to black perpetrator-white victim crimes emerged as an important piece of the puzzle for Lyon when she was working on Race to Execution, her full-length documentary about race and the death penalty, which was broadcast on PBS in 2007. She observed, "It became clear that our 'crime-soaked media culture' of TV news tends to present minorities as potentially dangerous criminals, while reinforcing perceptions that white, middle-class people are at great risk of being violently attacked by people of color." In March 2008 she received a $7,500 Mass Humanities Liberty and Justice for All grant to complete work on Juror Number Six, the 12-minute film that explores this very phenomenon and provides a media-education prequel to Race to Execution.
Race to Execution chronicles the cases of two black men, Robert Tarver and Madison Hobley who were accused of murder and faced nearly all-white juries. Tarver was executed in 2000 and Hobley was sentenced to death but eventually exonerated. The film tells the stories of the crimes themselves, the arrests of Tarver and Hobley, and then the legal processes that both men experienced. The documentary reveals how deeply influential the race of a victim is, from the investigation of the crime scene to the arrest of suspects and, eventually, to jury selection and sentencing. The racial composition of a jury is a crucial factor in sentencing. According to a description of Race to Execution on the Independent Television Service website, "Recent research indicates the extent to which the make-up of the jury affects sentencing: when five or more white males sit on a capital trial jury, there is a 70 percent chance of a death penalty outcome."
That's where Juror Number Six comes in: Has that pivotal juror been influenced by hours of television news that, as attorney Andrea Lyon points out in the film, features crime stories "six hundred percent more than it used to"? She later asserts her opinion that it's "impossible for a juror to just erase stereotypes." And after being inundated with clips of cable television crime imagery, which relentlessly over-represent people of color as  suspects in crimes with white victims, it's impossible to disagree.
The film posits that television coverage of the O.J. Simpson trial in 1995 was a key media moment that forever changed the landscape of television news coverage, creating a 24-hour news cycle and catering to an apparently new public appetite for crime reporting and news programs dedicated to crime coverage, such as Fox's On the Record with Greta Van Susteren. The U.S. Department of Justice's Bureau of Justice Statistics indicates that the rate of serious crimes has been in decline since 1993, but you'd never guess that from watching the news.
Counterbalancing this hyper-reportage of crimes with its overt focus on people of color as suspects and defendants is the prime time courtroom drama, which depicts a fair, diverse justice system, often with a black judge presiding. As Charles Olgetree, Jr., notes in Juror Number Six, the message is that as a culture, "we have arrived." That's not the prevailing reality, however. "In most places in the criminal justice system," Andrea Lyon observes in the film, "all of the players are white. The judge is white, the prosecutors in the courtroom are white, the defense lawyers are probably white, and the jury's overwhelmingly white." Current research overwhelmingly suggests that this imbalance has a direct correlation with death penalty sentencing. The Death Penalty Information Center, for instance, claims that 98% of the chief district attorneys in death penalty states are white.
Juror Number Six can be viewed on its website www.jurornumbersix.com. The Charles Hamilton Houston Institute on Race and Justice website also hosts it, as does the National Black Programming Consortium website as part of The Masculinity Project, a collaboration between Blackpublicmedia.org and the Independent Television Service (ITVS). In addition to the film, the project website includes discussion guides, classroom guides, flyer templates for community screening events, and information about the experts featured in the documentary. The facts and conclusions of media analysts are incontestable: the U.S. justice system is anything but race blind, and the media supports and promotes a skewed, racialized view of violent crime.
---
©2008 The Massachusetts Foundation for the Humanities
Published Mass Humanities, Fall 2008