by David Tebaldi

A lot of attention is being paid these days to economic inequality in America and its consequences for our democracy. indeed, our fall symposium this year (see the back cover of this issue) will be addressing this very topic. But there is another kind of inequality—related to but different from economic inequality—that is in some respects even more troubling.
I am referring to educational inequality.
At a recent forum on the humanities and civic life organized by the American Academy of Arts and Sciences in Cambridge and the six New England state humanities councils, Massachusetts Secretary of Education S. Paul Reville made a point that really stuck with me. He said that public school students today spend only 20% of their waking hours each year in school and 80% doing other things such as watching television, playing video games, etc.—much of which has baleful effects that schooling is expected to overcome. Kids who live in wealthy communities, however, who not only have better schools and a richer curriculum, also have far more varied and enriching out-of-school experiences that their parents can afford to provide. This widens the achievement gap even further.
That is not only unjust, it is bad for our democracy.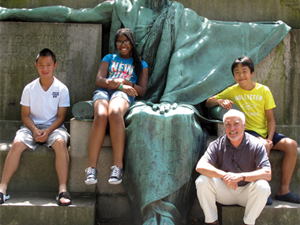 I thought immediately of the Great Books Summer Program (GBSP) and how Mass Humanities is providing kids from low-income families with an intellectually rich out-of-school GBSP, which is held at Amherst College and Stanford University, is a residential humanities camp for academically motivated middle and high school students. Hundreds of kids from across the country participate each summer, mostly from solidly middle- or upper middle-class families. A new partnership between GBSP and Mass Humanities provides full scholarships so that 10 students from low-income families in Massachusetts can attend the program at Amherst. the scholarships include a travel stipend and a small allowance for incidentals.
This summer I spent two days at Amherst attending classes and small group discussions, meeting several members of our first class of scholarship recipients. the teaching that i observed was excellent and the kids were totally engaged in the material and eager to respond to the instructors' provocations.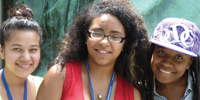 The reading for one class was Gabriel Garcia Marquez's "One of Those Days," a classic short story about a corrupt mayor who threatens to shoot the town's dentist if he won't remove his aching tooth. The dentist complies but makes the mayor suffer needlessly by withholding the anesthetic. The reading for the second class was an essay by Susan Sontag on photography and historical memory. In both cases, the comments of the 11- to 14-year-olds who filled these classes were remarkably astute, especially considering how little historical memory these kids possess.
The highlights of both days, however, were the conversations I had over lunches with our students. They were clearly thriving in the program and grateful to Mass Humanities for the opportunity to participate. Tthese are terrific kids, and they made me feel hopeful that respect for the humanities and the love of ideas will endure.
Published in Mass Humanities Fall 2012 Newsletter Issue (pdf)