by Hayley Wood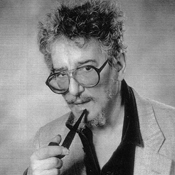 Robert Neugeboren opens the documentary Imagining Robert by telling a joke. Viewers may realize from his appearance and constant motion that he has a long-term mental illness, but his zeal to entertain and interact is undiminished by 38 years of life in and out of mental institutions. Filmmaker Larry Hott recalls his first visit with Robert: "He was performing. And I thought, what else do you want in a film but a performer? I was charmed and absolutely convinced that this documentary was going to work."
Robert's energy as a performer required an upbeat approach to the editing, the invisible artistry that flavors and organizes the piece. That is the work of Diane Garey. Hott credits her with the rhythm of the film, the innovative choice of music (bongos!), and a unique cutting technique. He observes, "The cutting is not standard cutting. It's not very mellifluous, flowing cutting; it's very sharp. When you're in the halfway house and Robert's bouncing off the walls having a bad day, the editing is bouncing off the walls as well. There's a rhythm to it that fits Robert's emotions."
Hott and Garey of Florentine Films/Hott Productions have been working on Imagining Robert, a film based on the 1997 book by Jay Neugeboren, since 1999. The book and the film tell the story of two brothers: Jay, a writer, and Robert, his brother, who lives with severe mental illness. Florentine Films/Hott Productions recently received a major media production grant from the Massachusetts Foundation for the Humanities, having received a script development grant in 1999. Last year, in partnership with the Foundation, they received a grant from Americans for the Arts to take part in the Animating Democracy Initiative (ADI), a project devised to foster arts-based civic dialogues across the country. Imagining Robert is one of 32 diverse ADI projects. It is in distinguished company with organizations including the Andy Warhol Museum in Pittsburgh, The Jewish Museum in New York, The Workers' Theatre in Brooklyn, and the San Francisco Opera.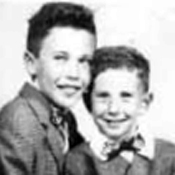 The film is now complete. The next challenge for Hott and the Foundation is to mount a series of public screenings and civic dialogues. Project work is now centered on creating events that will engage audiences in examining the ways in which mental illness affects families. These programming goals have informed both the content of the film and the outreach strategy. Hott observes, "Receiving the ADI grant spurred us to consider our audience. How many different groups can we reach? Since we hadn't finished the film yet, another challenge was to work on the art in such a way that it does spark dialogue."
A humanities theme that will stir audiences is that of family responsibility. The film asks viewers to consider societal treatment of the mentally ill and to examine the pressures placed on families by the shortcomings of state-managed care. Hott says, "It asks the question, 'What is our responsibility to our family members?' I think everybody who gets an average American education knows that our society doesn't treat families the way other societies have . . . and it makes us question our own values." Hott points out that Robert has experienced a broad array of treatments and therapies. He comments, "Robert did suffer the conditions that were portrayed in Snake Pit [a feature film made in the forties about conditions in mental hospitals], and right up until the nineties was having difficulty in state hospitals."
Project Renewal, a halfway house in Manhattan where Robert currently lives, is portrayed as an enlightened facility. The narrative arc of the film charts Robert's progress and challenges there. In contrast with Robert's most confining and upsetting situations, this halfway house provides a full staff of people who deal with Robert as the complex person he is. Jay, comments, "The staff insists on Robert's responsibility. They have realistic expectations and are not condescending. When he has acted out, they have not written him off."
Jay was both a subject for the film and an artistic collaborator. Hott says, crediting Jay's understanding of the process to the fact that he is a professional writer:
He makes his living as a storyteller. As we were filming I found out something else about him that made him a wonderful film subject; he understood what we needed for the film. He understood the medium of film, partly because he's written screenplays, and partly because he was a writing teacher at UMass for 25 years. Writing is editing. He could edit his own statements on the fly, and that made him almost a co-director or co-writer in that he was involved in forming the ideas and words that went into the film.
As a brother who has been Robert's primary caretaker since 1974 when their parents retired and moved to Florida, Neugeboren also has a significant amount of practical advice to offer those who are in similar situations. How can family members make sure that those for whom they are responsible receive compassionate, effective care? Neugeboren suggests that the first order of business is to use local networks (local National Alliance for the Mentally Ill groups are invaluable) to find a social worker who will take on the logistical responsibilities of caring for a client. In his case, having a dependable social worker who is in charge of Robert's day-to-day needs has freed him to be a brother. It has also eased the tension felt by both brothers. However, Neugeboren warns, "There are no maps."
Beyond providing concrete information and food for thought for a diverse group of audience members that will include police officers, lawyers, mental health professionals, legislators, and the general public, this project may influence public policy. Films that reach a mass audience through television broadcasts can raise the consciousness of thousands, removing stigma and adding dimension to the public perception of those who suffer mental illness and the difficulties they face. Hott points out, "Legislators who work on insurance coverage parity need a groundswell of support. They need to raise consciousness not only among the public but among their constituents within Congress to get legislation passed." Here we have a unique opportunity to use the art of filmmaking to get people talking, to deepen our thinking, and to improve our community.
©2002 The Massachusetts Foundation for the Humanities
Published in Mass Humanities, Spring 2002