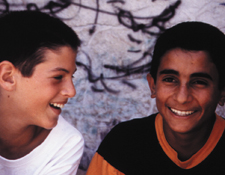 Six hundred people turned out on Sunday, February 18, at the historic Academy of Music in Northampton for the Western Massachusetts premiere of Promises, a remarkable film that looks at the Middle East conflict through the lives of seven Palestinian and Israeli children all living in and around Jerusalem. The critically acclaimed feature-length documentary has been nominated for an Academy Award.
The children, four Israelis—including a pair of identical twins—and three Palestinians, are all between the ages of 9 and 13, an age group that rarely has the opportunity to speak for itself. Less self-conscious than teenagers and less politic than adults, they speak directly from their hearts and are both reflections of their cultures and voices for future generations of Israelis and Palestinians.
Over the course of four years, filmmaker B.Z. Goldberg, an American Jew who grew up in Jerusalem and covered the Intifada as a journalist, was welcomed into the daily lives of these children and their families. The children offer dramatic, emotional and sometimes hilarious insights into what it is like to grow up in a holy city wracked by violence.
Though they live only 20 minutes apart, the seven children exist in completely separate worlds; the physical, historical, and emotional obstacles between them run deep. Some of the children are captured by the region's hatreds; others seem able to transcend them. The ability to communicate in a way that breaks through prejudices is surely a prerequisite for peace in the region. And yet hardly anyone is having such conversations.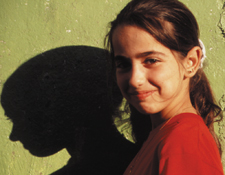 The filmmaker was able to confront and overcome these obstacles, partially and momentarily, by bringing the Israeli twins together with the Palest-inian children for a day. But the prospects for future dialogue among these children or others living in the region range from uncertain to impossible. (For more information about the film, go to www.promisesproject.org.)
Goldberg, who lives in California, was scheduled to appear in Northampton to engage in conversation with the audience after the screening, but he was abruptly called to Israel to appear in a piece about the film produced for 60 Minutes. Project director Bob Cilman, of the Northampton Arts Council, cleverly arranged a telephone hook-up with Goldberg in Jerusalem. Cilman ran the phone line through the theater's sound system, and it worked beautifully. Everyone in the theater could hear Goldberg, and he could hear them, just as if he were physically present. The questions and comments from the audience, including several from the many children who attended, were deftly and sensitively handled by the filmmaker.
The afternoon program began with a music and dance performance by the Sultana Ensemble, a group of Israeli, Pale-stinian, Arab and Jewish American performers based in New York City, and was co-sponsored by the MFH and the UMass Office of Jewish Affairs.
©2002 The Massachusetts Foundation for the Humanities
Published in Mass Humanities, Spring 2002