In January 2003, Boston College received an exhibit planning grant for Ending the Silence: Korean Americans Remember the Korean War. The project director is Ramsay Liem, a psychology professor who describes himself as "always having had an interdisciplinary streak."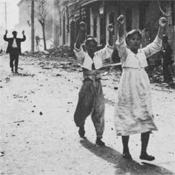 Liem, whose parents immigrated to the United States from northern Korea years before the country was partitioned, has long been active in efforts to build understanding between Americans and Koreans and to promote reconciliation among the peoples of the divided peninsula. Liem believes that being the child of Koreans who emigrated during the period of Japanese colonization of Korea has shaped his life profoundly. "Both my mother and my father created lives in the U.S. as scholar/activists struggling against colonization, then military dictatorship in the Republic of Korea, and then the seemingly intractable division of the peninsula," he says. "Their influence is reflected not only in the work I do as an academic, but also in my work as a community activist."
In March 2004, Liem's project received implementation funding from MFH. Now called Still Present Pasts, the exhibit uses a variety of media to explore the legacies of the Korean War and to encourage reflection on the devastation of all wars. Liem views the experience of violent conflict, national division, poverty, loss, forced emigration, and the struggle to survive in a new land as a "family secret" for Korean Americans. The secret has been passed on to children who can only wonder, painfully, about its meaning and the reasons for their parents' silence. Still Present Pasts is the first major event to invite people from different generations and communities to come together and explore what has been left unspoken. The exhibit will reveal that the family secret is in fact a common experience that connects Korean Americans to each other, to other Americans, and to relatives and ethnic kin in both Koreas. Inspired by the accounts of struggle, survival, and compassion in a remarkable collection of oral histories, Liem teamed up with a professor of history, a documentary filmmaker, and three accomplished artists to create a common vision for the exhibit. Still Present Pasts uses historical texts and excerpts from the oral histories of Korean American war survivors and their families on exhibit panels, in an accompanying booklet, in audio and visual loops, and as the basis for art installations.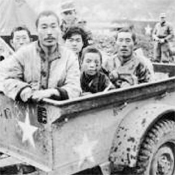 Liem expresses satisfaction that, in a relatively short period of time, an idea based on his own oral history research "has become a collective project where 'ownership' in the best sense has passed to the group." The willingness of the other team members to make the exhibit work "affirms my belief," he says, "that the Korean War is indeed an important part of the lives of Koreans in the U.S. I discovered that the war has been a lurking shadow in their own lives, influencing their past work, but now surfacing in a more conscious way as we have tried to create this public, multi-media narrative."
The Foundation's Grant Review Committee agreed with Liem that, sadly, Still Present Pasts is especially timely at the beginning of the 21st century. Fifty years after the signing of a cease-fire agreement, the Korean War has still not ended, and Koreans all over the world, including those in the United States, live in fear of renewed conflict. Newer conflicts exact a terrible toll in many parts of the globe, while stories that reveal its human costs remain largely hidden. Liem and his collaborators believe that there is a desperate need for a space where people come together to learn from the past, heal wounds, and commit themselves to the peaceful resolution of conflict.
The exhibition's unconventional use of artistic interpretations to frame historical material has complicated the search for a host institution. Liem observes, "I've discovered that combining the arts and humanities, not to mention the social sciences, for a public project is challenged by the relative scarcity of venues devoted to interdisciplinary work. I've discovered that the same difficulty we have in the university in genuinely integrating perspectives across disciplines is present in community institutions that serve a broader public."
Still Present Pasts will open in the Boston area in the fall and then travel to major metropolitan areas with significant concentrations of Korean Americans, e.g. New York City, San Francisco and Los Angeles. For more information, contact liem@bc.edu.
---
©2004 The Massachusetts Foundation for the Humanities
Published in Mass Humanities, Spring 2004