by Maria Healey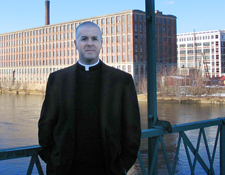 In December 2004, the Foundation awarded Documentary Educational Resources a script development grant for a film by Boston filmmaker James Rutenbeck. Scenes from a Parish will explore two years in the life of St. Patrick's Church in South Lawrence, a traditionally Irish-American parish undergoing huge changes that reflect dramatic demographic and economic shifts in the city.
More and more an urban ministry, St. Patrick's serves 5,000 parishioners, most of them Hispanic or Vietnamese, through its elementary school, sports programs, meals, language classes and masses. Recently, when a nearby Hispanic parish closed, the Hispanic priest, and many of his parishioners, came to St. Patrick. For five years now there have been Spanish masses on Sundays. A mass in Vietnamese is offered every other week. Irish Americans now constitute a minority in the parish and in the city.
Amid ethnic tensions and differing opinions as to the direction the church is going, a young, bright Irish-American priest, Paul O'Brien, is committed to "multi-culturalism in all its forms". He sees the parish not only as a place of tremendous good but also as a means to social integration, uniquely positioned to connect with people one on one as they struggle with the social problems that plague so many Lawrence residents: poverty, lack of education, unemployment, and isolation.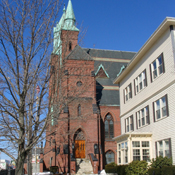 Scenes from a Parish will be Rutenbeck's fourth independent film. He was drawn to the project partly because of an interest in Dorothy Day, co-founder of the Catholic Worker Movement: "She wrote about loneliness and social isolation, whether or not people can come out of that in a community, and how that works."Also inspiring Rutenbeck was a character from his last film, Raise the Dead, which looks at itinerant Pentecostal evangelists in Applachia. A 70-year old woman living in one of the coal country towns on the evangelists' circuit evolved in the course of filming as a leader in her own right, distinct from the itinerants because of her ties to a community. "It got me thinking about religious communities," Rutenbeck says. "Christian ideas of community—how far you can take them."
Wanting to do a film about faith and an urban parish, he started contacting priests and parishes. In a chance meeting at his own parish in Newton, he met the mother of Paul O'Brien, the pastor at St. Patrick's. The geography and demographics of Lawrence compelled Rutenbeck further. As one of Boston's "satellite cities," Lawrence is an extreme example of a pattern of immigration that sets Boston apart from the rest of the country. According to a recent Working Paper published by the Rappaport Institute (Boston at the Crossroads: Racial Trends in the Metropolitan Area in the 1990s and Beyond by Guy Stuart, Professor of Public Policy at the Kennedy School of Government), Boston has more "satellite cities" than any other metropolitan area in the country, containing 15 percent of the region's population, compared with a national average of 9 percent. Blacks, Asians and Latinos, diverse populations themselves, are moving to this ring of cities at an increasing rate, while whites either move away or consolidate in all white neighborhoods.
Add to that pattern the fact that many in Lawrence must choose daily between food and housing while facing high unemployment, rising crime, and language barriers, and the city is a microcosm of issues confronting cities across the country.
At 6.5 square miles, this mill city, distinguished by the fading beauty of barren historical buildings and clock towers, has a population of roughly 75,000. Among the diverse ethnicity, nearly 70 percent of the population is Hispanic, with Dominicans the largest subgroup. There are Vietnamese and Afro-Caribbeans, as well as groups with a longer history in the city like Irish Americans and French Canadians. Cultural differences present ongoing challenges, as do stark living conditions. Though it receives more state money than any other city in the Commonwealth (more than $200 million in infrastructure improvements), Lawrence continues to struggle with poverty and attendant social problems and with a troubled educational system. The public high school only recently regained its accreditation after having lost it for seven years.
The parish, housed in a beautiful Gothic Revival church with the grandeur of a cathedral, is a beacon within all this, located where "the patterns of immigration are changing more drastically."As Rutenbeck found his subject, the Foundation saw the potential in his proposal—an important opportunity to highlight Lawrence with a humanities film designed to open public dialogue about the cultural and social changes that Massachusetts cities are facing.
"My hope is that the film will be an aesthetic experience suggesting our essential connectedness as human beings," says Rutenbeck. "Scenes from a Parish is a case study but I hope it will resonate as a much larger story. The St. Patrick's experience anticipates something much bigger that is just beginning to unfold in America today."
Following the lives of various parishioners, not only at the church, but in the ordinary course of the day, Scenes from a Parish promises to do what good documentaries are particularly adept at doing: showing the complexities of life.
"We have a character who is a volunteer for the St. Vincent de Paul Society," says Rutenbeck. "We filmed one day when he went to a motel where a group of homeless women were being temporarily housed. There was one woman with several children by different men—all absent—and he was so troubled by this." Among other things, Scenes from a Parish explores the idea of "people grappling with a changing culture, wanting to be good Christians but coming up against cultural changes which sometimes derail their efforts. How does a place that aspires to an ideal of community get there? Can they get there?"
How should America's cities and suburbs respond to increased racial and ethnic diversity? One of the values of documentary films is that—either because of, or in spite of, the filmmaker's perspective—characters and their stories emerge and invariably reflect the larger world. Scenes from a Parish "is exploring the way that while very good people may really not have a profound interest in bridging differences," says Pastor O'Brien, "if you get to a point where people, particularly poor people, are actually serving other people together, they really do end up bridging differences."
---
©2005 The Massachusetts Foundation for the Humanities
Published in Mass Humanities, Spring 2005