By David Reich
Editor's note: The following excerpt is from an article written for Boston College Magazine, ©2008 Trustees of Boston College. Used with permission.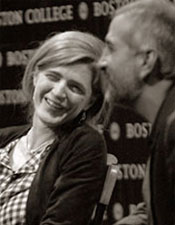 On Saturday, November 17, seven big-time editors and reporters, one celebrated blogger, and a former presidential press secretary met on the stage of Robsham Theater to consider the latest puzzles, annoyances, and threats facing the mainstream media. The occasion of this worry-fest was a symposium titled "No News is Bad News," which like three previous fall convocations—on presidents, the voting rights act, and the Supreme Court—was organized by the Massachusetts Foundation for the Humanities and hosted by Boston College. Over the course of the afternoon, before an audience of some 500, panels of speakers chewed over such topics as the challenge of the Internet, plummeting newspaper circulation (and advertising revenues), shrinking staffs, and charges of liberal and conservative bias. The grimmest consideration of all, however, was undertaken by the first panel—a set of war correspondents who addressed the risks and obligations of reporting from Iraq, where the conflict has resulted in the death of 124 journalists, including 32 in 2006 alone—a single-year record, according to the Committee to Protect Journalists.
The Boston Globe's Kevin Cullen (Iraq, Northern Ireland, the former Yugoslavia) and the Washington Post's Pulitzer winner Anthony Shadid (West Bank, Lebanon, Iraq) spoke of the difficulties attendant on their work in Iraq because reporters, Western reporters especially, are increasingly seen as legitimate military targets—something new in the annals of journalism, according to the panelists. "I was only in Iraq for a week," Cullen said, "and I thought I was going to die every day. I was in Belgrade for 40 days of bombing every night, and I never thought I'd die." Shadid, who arrived at Robsham with what appeared to be a diaper tote slung over his shoulder (his young daughter was in the audience), and who was wounded by an Israeli round several years ago while reporting from the West Bank, noted bluntly, "I have a daughter, and I've sometimes taken risks I shouldn't have taken." During his last tour in Iraq, he said, security was so perilous that "I simply couldn't do my job anymore." Without the Iraqi journalists who make up 80 percent of the Post's Baghdad staff, "the story would not be coming out," he said, adding, "The Middle East, probably the most relevant region in terms of news, is in some ways in a process of entropy. It's collapsing. We have to figure out how to cover that story."
A third panelist, the Kennedy School of Government's Samantha Power (former Yugoslavia, Darfur), herself the winner of a Pulitzer for A Problem from Hell, her book on genocide, described the cost-benefit analysis she did when offered a reporting assignment in a war zone. Power, who traveled to Darfur in 2005 to interview the head of the Janjaweed militia, said, "No one had gotten to the head of Janjaweed, and there was no evidence that we as Americans or as Westerners or as journalists were targets, even though . . . this guy was clearly a killer par excellence."
Adding insult to the serious prospect of injury, those covering Iraq face charges of bias from the war's supporters and critics at home and abroad. The war reporter's job is to analyze and explain the conflict, said Shadid, and not to express pro- or anti-war views. But "increasingly, the political culture in the United States doesn't want that type of discussion. It wants to know which side are you on." As if to illustrate the point, a woman who identified herself as a Boston College graduate used one of the floor microphones to accuse the panel of a "liberal bias that made it impossible for you to think positively about the war." "How would you presume to know what our bias is?" retorted Cullen, whose short stay in Iraq had resulted in a column about some U.S. marines who had flown a sick Iraqi girl out of the country for medical treatment.
A second audience member, equally impassioned, came at the panel from the opposite angle, asking whether the media would keep the country from "being spun into another war," this time with Iran. "Apologies [for being misled on the Iraq war] aren't what we need," she said. "We need an independent press." Power responded by saying that the invasion of Iraq took place during a time, following 9/11, when normal journalistic skepticism "melted away," as had—she noted—most checks and balances within government. Citing recent editorials against a war with Iran in the Washington Post and New York Times, she expressed hope that this period of immoderate trust had itself now passed.
The full article, containing a review of the second and third panels, entitled, "Political Reporting" and "The News Business and the Business of News," can be found in the newsletter section of www.masshumanities.org.
---
The proceedings of all three panels may be viewed at www.bc.edu/frontrow.
Published Mass Humanities, Spring 2008