A newly released five-year study shows that Mass Humanities' Clemente Course is changing more than just minds—it's changing lives.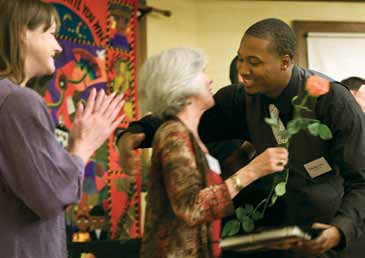 For the 129 graduates of the 11 Clemente Courses Mass Humanities has offered since 2006, literature, art, philosophy, and American history are not the luxuries they are sometimes accused of being. For these graduates, the study of such disciplines has provided a pivotal gateway from one reality to another. To use the students' words: from "detached to aware," "neglected to engaged," "dormant to energized." But no matter what words these graduates use, they all seem to come down to one: change.
"Clemente is about change," agrees David Tebaldi, executive director of Mass Humanities. "History, literature, philosophy, ethics, civics—these disciplines that make up the humanities also cultivate in the human spirit its most prized and essential qualities: curiosity, creativity, reflection, insight, and, most importantly, the thoughtful actions that stem from such qualities. What Clemente students learn is that, with these new found tools, they have a hand in shaping their own lives and the life of the nation they belong to. That's real transformation. And it doesn't get more important than that."
Mass Humanities brought the Clemente Course, which was conceived and developed by writer and social critic Earl Shorris, to the Commonwealth in 1999. Shorris's idea was simple: He believed that the insights and skills offered by the study of the traditional humanities disciplines could provide people with crucial tools for gaining control over their lives and becoming engaged in their communities.
"The idea came to me while I was visiting a maximum security prison in Bedford Hills, New York. I asked a prisoner why she thought people were poor. She said that it was because 'they don't have the moral life of downtown,' by which she meant Manhattan south of Harlem, where she grew up. I asked rather casually what she meant by 'the moral life.' What a surprise when she said, 'Plays, museums, concerts, lectures, you know.' I said, 'You mean the humanities.' And she looked at me as if I were some kind of cretin: 'Yes, Earl, the humanities.' On my way back to the city I made the connection between this woman's idea and my own education. It was the beginning of the Clemente Course."
In the last 13 years, Mass Humanities has offered Shorris's program in Dorchester, New Bedford, Worcester, and Holyoke, four communities where the Foundation believed the Clemente Course could do the most good. In these towns, students 17 and older were given tuition-free, college-level instruction for college credit. They were also provided with free books, carfare, and childcare to help ensure there were no obstacles to their completing the 110 hours of instruction the Clemente Course requires. Those who finish the course—now totalling 339—receive six transferable college credits. In reality, though, they receive so much more.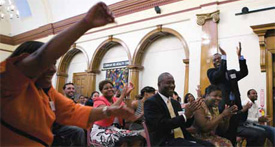 "Before Clemente I would just give up," says one participant interviewed in the study. "I wasn't optimistic. Clemente gave me the ability to know and be more aware, improve myself and help others. It opened up my mind and my eyes. I'm still feeling Clemente working in me."
Says another: "I have a new focus since Clemente—thinking that I matter enough to take care of myself. Clemente takes away the shame of neglect, of society's neglect, of other people's neglect."
For Ethel Stafford, who graduated from Harvard Extension School in May of 2011 with a bachelor's degree in liberal arts and a citation in management, Clemente was the spark. "The Course was very beneficial to me; it opened my eyes to look at different things from a different perspective. It was a good preparation for the Extension School. You get a taste of something good, and you don't want to stop."
That Clemente plants a seed is echoed by many others who have experienced the course.
"I believe the humanities call you to be a server," says an interviewee. "I believe in being a humanitarian."
"It is not enough that the humanities create beauty or solace or truth," says another. "People seem to be dedicated to wiping them out. For me, literature, art, art history, American history—all of them have become weapons for me. A lot hinges on the humanities, and the humanities have to be more, especially in these times of callousness."
Karen Chapdelaine, one of the first Clemente Course graduates, says, "The course was the best four hours of my week. It took the edge off my fear of college. It was a bridge from 'had I only' to 'I can.'"
With the in-depth evaluation now complete, Mass Humanities aims to expand the Clemente Course over the next few years to other communities around the state. "The need for what Clemente provides is great," says Tebaldi. "We're living in a time where a democracy of, for, and by the people depends ever more urgently on the people asking questions, thinking in nuanced ways, and engaging with others to get things done. That is the mindset of the humanities, what they instill in all of us. The more communities we reach with these gifts, the better off we all will be."



If you'd like to help or find out more, please contact David Tebaldi by writing dtebaldi@masshumanities.org or by calling 413.584.8440.