By Ginnette M. Powell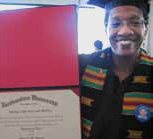 I saw a posting in the local Bay State Banner for the Clemente Course in the Humanities. Initially I called my friend Gillian to see if she would be interested in being a participant. She said what about you? Me, I thought! And then thought some more, and called the number for more information.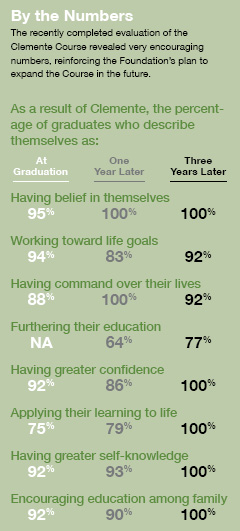 During the first information session, there was one alumna in particular that I remember to this day who had graduated from Northeastern University. To me that was amazing because I never thought that I could attend school unless I went full-time or hit the lottery. School wasn't on my list of priorities since I left Roxbury Community College in 1987. My job, house, and college-age son kept me very busy; how could I fit in going back to school? During the course, my classmates and I were empowered by the subjects we covered through class discussions, homework assignments, and the books that we read. Some of the books were books my son was reading in his classes at UMass Boston. My classmates and I worked together and gave each other rides home, helped each other, checked in with one another, and encouraged each other when we did well.
For me, Clemente was a chance to use the library, do my readings and assignments, and learn what I was capable of. For example, one day, while I was out with a friend looking at art, I was able to speak about the work due to what I learned in Jack Cheng's art history class. My friend said, "Why, Ginnette, you're an intellectual!" What a very powerful compliment, and a testament to what I learned during the Clemente Course and the confidence that I gained.
My role in the community changed because of Clemente: because of my classmates, those who were involved in the administration of the course, and by the places that we went (like the Cyclorama to see The Tempest, or the ICA). People do look at you differently because of education, especially the humanities. They change and mold you as a person in so many ways.
Last September, I graduated from Northeastern University's College of Professional Studies with a bachelor's degree in sociology. I attended online and on-campus classes there and worked as a blogger for a semester. I made the Dean's List twice and applied the six credits from Clemente toward my degree. I owe this to the Clemente Course, folks calling to follow up with me and encouraging me to further my studies. It all started with an ad in a paper and thankfully I read it or else I wouldn't be an alumna from Northeastern University, just like the woman from the information session whom I've never forgotten.


Watch a video about recent graduates