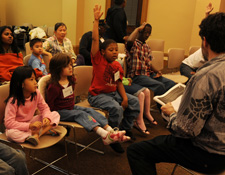 The words that storyteller John Porcino used to frame our discussion —"when we talk, there are no right or wrong answers… everyone's voice is important"— settled in as a recent session of Family Adventures in Reading (FAIR) began. I was immersed in a group of families of many ethnicities, whose members ranged from six to sixty years old, or more. They had come to this humanities-based family reading program at the Central Library in Springfield on a cold Saturday, to be nourished by thoughtful discussion and warmed by John's exciting presentation.
This was the fourth of six weekly FAIR sessions, and most children had already attended at least one — they all clearly were eager to be there. The group included seventeen children and ten parents and caregivers, each of whom enthusiastically offered input and asked questions at one point or another. In this session, the books included Where the Wild Things Are by Maurice Sendak; Lon Po Po by Ed Young; and Abiyoyo by Pete Seeger. Mass Humanities will be presenting FAIR in Springfield through the coming spring, underwritten entirely with a generous grant from The Edith Glick Shoolman Children's Foundation.
John embraces the joy and adventure in life, and conveys that to the children with apparent effortlessness. He has cultivated his engaging and interactive style of storytelling for over twenty years, beginning on a crosscountry journey when he was in his twenties. His ground rules make clear the open-minded way he approaches storytelling, and the kids are unmistakably receptive to it.
As he started into Sendak's famous imaginary adventures of a boy named Max, John explained that this was the first story he ever told to a group of children, at a small school near the Mississippi River. He interspersed personal anecdotes while
telling the story, encouraged the kids to speak about what they read, and role-played the characters. At the end of the story, John asked questions such as "Why do people like monsters so much?" One teen responded by saying, "they're interesting,
scary and mysterious," while a younger child said, "because it helps us to see scary things not in real life; but it's good to see them in books, on TV and in movies."
After a guitar interlude of "All Life's Critters Got a Place in the Choir," a song that builds a sense of community, John showed the group an erhu, a musical instrument his mother had brought him from China. This led directly into Lon Po Po, a Chinese version of "Little Red Riding Hood" where siblings use teamwork to foil an evil wolf. At the end, John asked both children and adults to describe a time when they had to solve a problem.
During a brief refreshment break, a member of the library staff announced upcoming programs and classes at the library, and John spoke of other books the kids could borrow.
The final book with musical accompaniment was Abiyoyo, based on a South African lullaby about a father and son who use their bravery, wits and a ukulele to rid their community of an irksome giant. John invited the children to demonstrate parts of the book as he read. When the time was up, John asked the children to think about bravery, and talk with the adults at home about what it means to be brave. I was impressed with John's skill as a storyteller, the group of children and adults who turned out to take part in FAIR, and the organized library staff. As one child said very simply, "We talk about stories because they help you to learn." And FAIR is doing just that—helping both children and adults to read, share and grow together in a fun, non-judgmental environment.