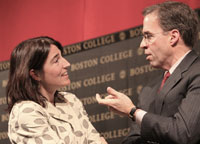 Two days before our November 7th symposium on the gap between military and civic culture in the United States, Nidal Malik Hasan, a U.S. Army major stationed at Fort Hood, Texas, walked into the Soldier Readiness Center and opened fire, killing thirteen people and wounding thirty others. This horrific episode captured the nation's attention and created a somber mood for the day's discussions. It also brought into harsh relief some of the very issues we had come together to examine.
Soldiers & Citizens: Military and Civic Culture in America brought more than a dozen prominent scholars, journalists and military professionals together before an engaged audience of 325 people at Boston College for a series of conversations examining how the different social, cultural and moral issues at play in our democracy affect and are affected by the military.
Our first panel, Diversity in Uniform, looked at how the issues of race, gender, class, sexuality, and religion are dealt with in the military. The panel included Col. Chuck Allen, professor of cultural science at the Army War College and frequent contributor to the Washington Post's "On Leadership" blog; MIT Professor Missy Cummings, one of the Navy's first female fighter pilots and the author of Hornet's Nest; Nathaniel Frank, author of the definitive analysis of the military's "Don't ask, don't tell" policy, Unfriendly Fire: How the Gay Ban Undermines the Military and Weakens America; Mikey Weinstein, founder and president of the Military Religious Freedom Foundation. It was ably moderated by UMass historian Chris Appy, author of two books about the Vietnam War.
The second panel, United We Serve, examined the pros and cons of the All Volunteer Force and the policy's impact on military culture. The panel included Col. Allen; former Assistant Secretary of Defense Larry Korb, author of some twenty books on military policy and national security issues; Paul Rieckhoff, founder of Iraq and Afghanistan Veterans of America and author of Chasing Ghosts: Failures and Facades in Iraq, A Soldier's Perspective. Cullen Murphy—editor at large for Vanity Fair, former Mass Humanities board member, and author of Are We Rome? The Fall of an Empire and the Fate of America—moderated.
MSNBC's Rachel Maddow moderated the third and final panel, Cultural Influences: The Military, Politics and Society in 21st Century America. Joining Rachel on stage were three-time Pulitzer Prize-winning journalist and historian Rick Atkinson, author of The Liberation Trilogy; Andrew Bacevich, staunch critic of the increasing militarization of U.S. foreign policy and author of several books, including The Limits of Power: The End of American Exceptionalism; and Sarah Sewall, a former defense department official, lecturer at Harvard's Kennedy School of Government and co-author of "Parameters of Partnership: U.S. Civil-Military Relations in the 21st Century."
All three sessions are available to watch, hear, and read online at the new Multimedia page of our Web site: masshumanities.org