We Shall Not Be Moved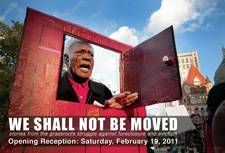 As an independent, non-profit organization, Mass Humanities receives both public and private funding: your tax dollars and your charitable contributions. The report on our 2010 evaluation conducted by the National Endowment for the Humanities (available at our Web site) was full of praise and encouragement. Its conclusion: The programs we fund, and those we conduct, greatly benefit the public.
One recent example is We Shall Not Be Moved, a project by documentary photographer and multimedia producer Kelly Creedon. Over the past year, Kelly has focused her lens on the human impact of the foreclosure crisis. Her work features stories from a local bank tenant association (organized by City Life/Vida Urbana of Jamaica Plain), a growing grassroots movement of families working together to protect their homes and communities from the devastating consequences of foreclosure and eviction.
Through compelling still photographs and moving audio testimonies, Kelly captures the emotional impact of foreclosure and displacement, as well as the spirit and inspiration behind a powerful movement that is creating real hope among those most affected by the crisis.
In March of 2010, Mass Humanities made a grant of $10,000 to City Life to support Kelly's work.