| | |
| --- | --- |
| Wednesday, May 10, 2017 7:30 PM – 9:00 PM | iCal |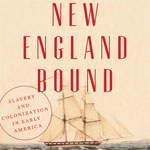 Princeton University history professor Wendy Warren's book links the growth of the northern colonies to the Atlantic slave trade, demonstrating how New England's economy derived its vitality from the profusion of slave-trading ships coursing through its ports. Warren documents how Indians were systematically sold into slavery in the West Indies and reveals how colonial families like the Winthrops were motivated not only by religious freedom but also by their slave-trading investments. "New England Bound" punctures the myth of a shining "City on a Hill."
Royall House and Slave Quarters, 15 George Street
Medford, Middlesex County, MA (Metrowest Boston)
contact: 781-396-9032
web: www.RoyallHouse.org
email: Director@RoyallHouse.org
cost: Free for RH&SQ members; $5 non-members.