| | |
| --- | --- |
| Wednesday, November 15, 2017 7:30 PM – 9:00 PM | iCal |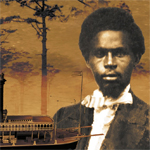 Playwright and author Patrick Gabridge will discuss his novel based on the thrilling true story of Robert Smalls, an enslaved ship's pilot in Charleston, South Carolina, who in 1862 stole a Confederate steamship and delivered it -- along with the crew and their families -- to the Union blockade. Smalls was later elected to the South Carolina State legislature and the U.S. House of Representatives. Patrick Gabridge is the author of two other novels and many short and full-length plays, including "Blood on the Snow," a site-specific play about the day after the Boston Massacre performed the last two summers at Boston's Old State House.
Royall House and Slave Quarters, 15 George Street
Medford, Middlesex County, MA (Metrowest Boston)
contact: 781-396-9032
web: www.RoyallHouse.org
email: Director@RoyallHouse.org
cost: Free for RH&SQ members; $10 non-members.