| | |
| --- | --- |
| Thursday, November 16, 2017 7:00 PM – 8:00 PM | iCal |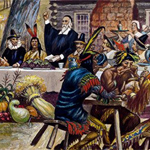 What comes to mind when you think of the first Thanksgiving? Do you envision Pilgrims, Indians, and a 3-day feast? Well think again! Thanksgiving has a significantly more complicated history than we were taught in elementary school. Join Framingham History Center Curator Stacen Goldman for a talk about the real origins of everyone's favorite food-based holiday!
Edgell Memorial Library, 3 Oak Street
Framingham, Middlesex County, MA (Metrowest Boston)
contact: 508-626-9091
email: laura@framinghamhistory.org
cost: Free/FHC Members, $5/non-member, Please RSVP.