| | |
| --- | --- |
| Saturday, January 13, 2018 2:00PM – 4:00PM | iCal |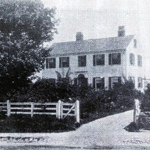 Learn about the history of the 1822 Lewis-Dawson Farmhouse at 1090 Centre Street, now part of the Arnold Arboretum. The illustrated talk will explore the house itself and its two most notable occupants, Jackson Thornton Dawson and Ernest Jessie Palmer, and their families. Both men were noted plant propagators for the Arboretum. Their work has shaped the Arboretum as we know it today. The Farmhouse was awarded Boston Landmark Commission status in 2007 through the efforts of neighbors in response to plans for its demolition. A current effort is underway to restore the Farmhouse and to find a reuse compatible with the mission of the Arboretum. One of the committee members, local historian Celeste Walker will be our speaker.
Jamaica Plain Branch Library, 30 South St, Jamaica Plain, MA, 02130
Boston, Suffolk County, MA (Greater Boston)
contact: 617-524-2053
web: www.jphs.org
email: info@jphs.org
cost: Free and open to the public. Refreshments will be served.