| | |
| --- | --- |
| Sunday, October 14, 2018 2:00 PM – 3:00 PM | iCal |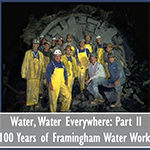 In part two of our program, City Historian Fred Wallace will continue with the development of Framingham's water supply from 1935 to the present. We will pick up where he left off after the discovery of the largest aquifer in the state under Birch Rd. in the Northeast section of town. Our competing needs with metropolitan Boston along with post WWII growth, the environmental movement in the 60s and the establishment of the Metropolitan Water Resources Authority contribute to a fascinating glimpse into the evolution of our infrastructure and how we access water today.
Edgell Memorial Library, 3 Oak Street
Framingham, Middlesex County, MA (Metrowest Boston)
contact: 508-626-9091
email: laura@framinghamhistory.org
cost: Tickets are $5/FHC members and $10/non-members.