| | |
| --- | --- |
| Sunday, January 27, 2019 2:00 PM – 3:00 PM | iCal |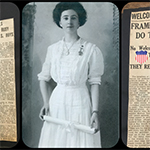 On the home front during WWI, women and girls of Framingham gathered weekly to support our soldiers "over there." Formed in 1917, the Military Girls Club lifted the spirits of many young men with comfort boxes of sweets and necessities and regular correspondence. Founding member and Treasurer Kathryn (Cassie) Harrington Jordan compiled a beautifully detailed Military Girls scrapbook from 1916-19 with newspaper clippings detailing postcards, letters, photographs and even patriotic Dennison stickers. Cassie's granddaughter will share more with us about this invaluable snapshot of Framingham during wartime and the indomitable spirit of the women who were left behind.
Edgell Memorial Library, 3 Oak St., Framingham
Framingham, Middlesex County, MA (Metrowest Boston)
contact: 508-626-9091
email: info@framinghamhistory.org
cost: $5/FHC member and $10/non-member.