| | |
| --- | --- |
| Saturday, August 31, 2019 12:00 PM – 4:00 PM | iCal |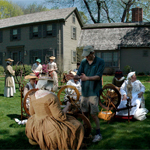 On the exact 250th anniversary of the 1769 spinning protest in Lexington, come to a reenactment of that important event! There will be spinners in period dress, interpreters sharing information about the craft of spinning, the political climate of the time and the British goods boycott that sparked the 1769 spinning bee. Plus, enjoy a preview of our 2020 Buckman Tavern exhibit on women and political protest.
Harrington Road (across from the Battle Green)
Lexington, Middlesex County, MA (Metrowest Boston)
contact: 781-862-1703
cost: Free and open to the public!