Explore the Mass Humanities funded projects awarded from 2000 to the present.  Browse by grant type, city, region or keyword.  Subscribe and receive news when grants are awarded.  Interact with a state map of grants awarded!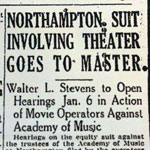 Project: Engaging New Audiences Grant
Production of a new, original play, The Mildred Files about a scandal involving the Academy's past interim director. The performance is part of the Academy's Women's Work Initiative, a multi-year series of events and productions focused on women in the performing arts.