Explore the Mass Humanities funded projects awarded from 2000 to the present.  Browse by grant type, city, region or keyword.  Subscribe and receive news when grants are awarded.  Interact with a state map of grants awarded!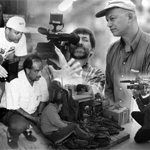 Project: Media Grant
Preproduction activities for film on current research into the pharmaceutical viability of psychedelic drugs and the historical and cultural contexts influencing how society regulates drugs.
Teddy Bear Films
San Francisco, CA, San Francisco County
project director: Caleb Hellerman
awarded on:
2016-12-09
amount:
$15,000