Explore the Mass Humanities funded projects awarded from 2000 to the present.  Browse by grant type, city, region or keyword.  Subscribe and receive news when grants are awarded.  Interact with a state map of grants awarded!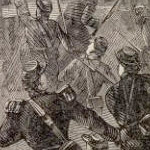 Project: Liberty & Justice For All Grant
Production of an introductory film for visitors from around the world to the historical context of the Battle of Lexington. The film will complement Lexington Historical Society's interpretive program at three nationally significant historical sites with important connections to the events of April 19, 1775.
Lexington Historical Society
Lexington, MA, Middlesex County (Metrowest Boston)
project director: Susan J. Bennett
awarded on:
2007-12-14
amount:
$10,000