Explore the Mass Humanities funded projects awarded from 2000 to the present.  Browse by grant type, city, region or keyword.  Subscribe and receive news when grants are awarded.  Interact with a state map of grants awarded!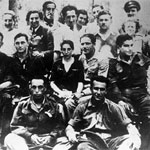 Project: Social Media Outreach Grant
Design and building of an interactive educational website in order to publicize and foster discussion around the feature-length documentary film "GI JEWS: Jewish Americans in WWII."
CityLore
New York, NY, New York County
project director: Lisa Ades
awarded on:
2015-12-11
amount:
$10,000