Explore the Mass Humanities funded projects awarded from 2000 to the present.  Browse by grant type, city, region or keyword.  Subscribe and receive news when grants are awarded.  Interact with a state map of grants awarded!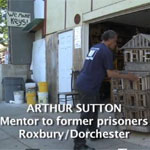 Project: Media Grant
Initial filming, research, and the creation of a project website and plan for a documentary that follows prisoners as they work with programs intended to help them establish a foothold in society after being released from incarceration.
Emerson College
Boston, MA, Suffolk County (Greater Boston)
project director: Robert Nesson
awarded on:
2015-12-11
amount:
$10,000