Explore the Mass Humanities funded projects awarded from 2000 to the present.  Browse by grant type, city, region or keyword.  Subscribe and receive news when grants are awarded.  Interact with a state map of grants awarded!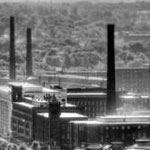 Project: Negotiating Social Contract Grant
Planning and implementation of a one-day symposium on the effects of federal and state urban renewal programs on Lawrence and other industrial cities.
Lawrence History Center / Immigrant City Archives
Lawrence, MA, Essex County (Northeast)
project director: Susan Grabski
awarded on:
2015-12-11
amount:
$5,000