Explore the Mass Humanities funded projects awarded from 2000 to the present.  Browse by grant type, city, region or keyword.  Subscribe and receive news when grants are awarded.  Interact with a state map of grants awarded!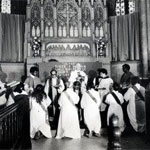 Project: Media Grant
Funding to conduct and film interviews and to perform archival research for the documentary film, "The Philadelphia Eleven," about the women who were ordained as priests in 1974 as an act of civil disobedience within the Episcopal Church.