Explore the Mass Humanities funded projects awarded from 2000 to the present.  Browse by grant type, city, region or keyword.  Subscribe and receive news when grants are awarded.  Interact with a state map of grants awarded!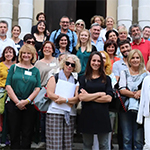 Project: Negotiating Social Contract Grant
Support for a weeklong teacher's institute in July on the holocaust, genocide, and human rights, that employs a multidisciplinary approach engaging history, philosophy, ethics, and religion with an emphasis on literature and reflective writing.
Olga Lengyel Institute for Holocaust Studies & Human Rights
New York, NY, New York County
project director: Cara Crandall
awarded on:
2018-12-14
amount:
$12,209