Explore the Mass Humanities funded projects awarded from 2000 to the present.  Browse by grant type, city, region or keyword.  Subscribe and receive news when grants are awarded.  Interact with a state map of grants awarded!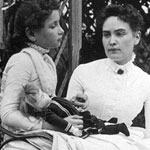 Project: Crisis, Community, & Civic Culture Grant
An online exhibit and curriculum unit to be developed within the existing Disability History Museum website using the story of Anne Sullivan (Hellen Keller's famous teacher and Agawam, MA, resident) to tell the story of disability rights and poverty advocacy.
Straight Ahead Pictures
Conway, MA, Franklin County (CT Valley)
project director: Laurie Block
awarded on:
2013-12-13
amount:
$10,000