Explore the Mass Humanities funded projects awarded from 2000 to the present.  Browse by grant type, city, region or keyword.  Subscribe and receive news when grants are awarded.  Interact with a state map of grants awarded!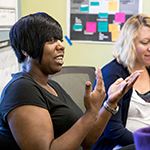 Project: Engaging New Audiences Grant
Support for a project using film to help local workers see their work lives as worthy of attention, and as a part of a historical trajectory in which they are agents, including a three-day digital story-telling workshop, solicited video submissions from local workers, a 1 1/2 day conference and a website showing workers' videos.
University Of Massachusetts Amherst
Amherst, MA, Hampshire County (CT Valley)
project director: Patricia A. Greenfield
awarded on:
2018-12-14
amount:
$15,000