Explore the Mass Humanities funded projects awarded from 2000 to the present.  Browse by grant type, city, region or keyword.  Subscribe and receive news when grants are awarded.  Interact with a state map of grants awarded!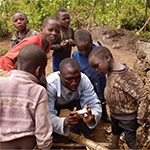 Project: Media Grant
Production a multimedia project for the 25th Anniversary of the Rwandan genocide this year in addition to creation of the trailer in for a film featuring three three men orphaned by the Rwandan genocide who teach photography as a healing practice to vulnerable children around the world, including at the Home for Little Wanderers in Boston.
The Ground Truth Project
Boston, MA, Suffolk County (Greater Boston)
project director: Beth Murphy
awarded on:
2019-03-15
amount:
$15,000