Explore the Mass Humanities funded projects awarded from 2000 to the present.  Browse by grant type, city, region or keyword.  Subscribe and receive news when grants are awarded.  Interact with a state map of grants awarded!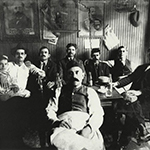 Project: Negotiating Social Contract Grant
Completion of a digital site on the history of immigration to Lowell, with a particular emphasis on immigration since 1965 to make often scattered information publicly available.