Explore the Mass Humanities funded projects awarded from 2000 to the present.  Browse by grant type, city, region or keyword.  Subscribe and receive news when grants are awarded.  Interact with a state map of grants awarded!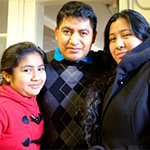 Project: Media Grant
Production of a treatment and trailer to aid in production of a feature-length documentary film exploring U.S. immigration from Central America and the current sanctuary movement through the story of Lucio, an immigrant from Guatemala who came to the U.S. illegally and who entered sanctuary in the First Congregational Church in Amherst in 2017 after receiving deportation orders.
Warren Plaut Charitable Trust
Granby, MA, Hampshire County (CT Valley)
project director: Kate Way
awarded on:
2019-03-15
amount:
$15,000