Explore the Mass Humanities funded projects awarded from 2000 to the present.  Browse by grant type, city, region or keyword.  Subscribe and receive news when grants are awarded.  Interact with a state map of grants awarded!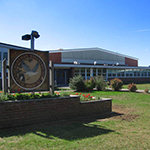 Project: Negotiating Social Contract Grant
Funding for a project engaging the island in cross-cultural conversations, with a thematic focus on the experiences of immigrants and refugees and an interest in teaching cultural literacy by having students actually converse with people from other countries.
Martha's Vineyard High School
Oak Bluffs, MA, Dukes County (Cape & Islands)
project director: Kevin McGrath
awarded on:
2019-03-15
amount:
$9,250