Explore the Mass Humanities funded projects awarded from 2000 to the present.  Browse by grant type, city, region or keyword.  Subscribe and receive news when grants are awarded.  Interact with a state map of grants awarded!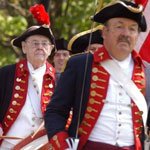 Project: Crisis, Community, & Civic Culture Grant
A county-wide reenactment of the events of September, 1774, when the local British government was overthrown by weaponless militiamen.
Worcester Historical Museum
Worcester, MA, Worcester County (Central)
project director: Bill D. Wallace
awarded on:
2014-06-20
amount:
$10,000