Explore the Mass Humanities funded projects awarded from 2000 to the present.  Browse by grant type, city, region or keyword.  Subscribe and receive news when grants are awarded.  Interact with a state map of grants awarded!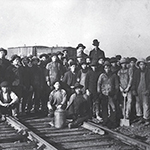 Project: Negotiating Social Contract Grant
Funding to host a traveling exhibit created by the Chinese Historical Society of America Museum and Stanford University in addition to public programs refocusing commemorating the transcontinental railroad on the experience of Chinese workers who did much of the labor.
Leominster Public Library
Leominster, MA, Worcester County (Central)
project director: May Lee Tom
awarded on:
2019-03-15
amount:
$4,950