Explore the Mass Humanities funded projects awarded from 2000 to the present.  Browse by grant type, city, region or keyword.  Subscribe and receive news when grants are awarded.  Interact with a state map of grants awarded!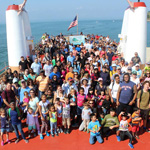 Project: Engaging New Audiences Grant
The introduction of already-successful humanities-based programs to adults in the Boston area; the organization's programs-originally created for teens and young adults-are based on songs and stories of the sea that include the oft-ignored experiences of African Americans, Asian Americans, Latinos, young people, and women.
Save the Harbor/Save the Bay
Boston, MA, Suffolk County (Greater Boston)
project director: Bruce Berman
awarded on:
2018-03-16
amount:
$15,000