Explore the Mass Humanities funded projects awarded from 2000 to the present.  Browse by grant type, city, region or keyword.  Subscribe and receive news when grants are awarded.  Interact with a state map of grants awarded!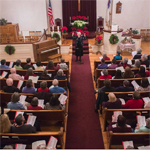 Discussion: Open Grant
A communal and choreographed reading of Frederick Douglass' speech, followed by conversation and musical performance in partnership with Double Edge Theatre.
Charlemont Federated Church
Charlemont, MA, Franklin County (CT Valley)
project director: Susan S. Purdy
awarded on:
2017-02-06
amount:
$1,935