Explore the Mass Humanities funded projects awarded from 2000 to the present.  Browse by grant type, city, region or keyword.  Subscribe and receive news when grants are awarded.  Interact with a state map of grants awarded!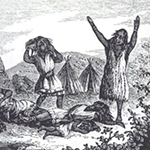 Project: Negotiating Social Contract Grant
For research and writing of a revised history of the first encounter between Pilgrim settlers and Native people that will be used as the basis for web-content and programming leading up to 400th anniversary commemorations in 2020. Project programs will make the public narrative newly relevant by connecting it to crises and challenges faced by Cape residents today.
Eastham Public Library
Eastham, MA, Barnstable County
project director: Debra Dejonker-Berry
awarded on:
2019-03-15
amount:
$15,000