Explore the Mass Humanities funded projects awarded from 2000 to the present.  Browse by grant type, city, region or keyword.  Subscribe and receive news when grants are awarded.  Interact with a state map of grants awarded!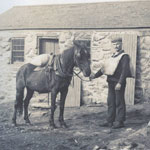 Research Inventory Grant
Scanning and inventory 1,000 photographic prints of New Englanders enjoying the outdoors between 1930-1950.
Appalachian Mountain Club
Charlestown, MA, Suffolk County (Greater Boston)
project director: Rebecca Fullerton
awarded on:
2014-06-20
amount:
$1,500