Explore the Mass Humanities funded projects awarded from 2000 to the present.  Browse by grant type, city, region or keyword.  Subscribe and receive news when grants are awarded.  Interact with a state map of grants awarded!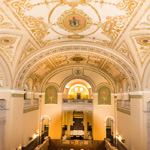 Project: Media Grant
The creation of a film trailer to raise funds for a visitors film-supported by input from historians and legal scholars-for the John Adams Courthouse.
Supreme Judicial Court Historical Society
Boston, MA, Suffolk County (Greater Boston)
project director: Wendy Lement
awarded on:
2018-03-16
amount:
$15,000