Explore the Mass Humanities funded projects awarded from 2000 to the present.  Browse by grant type, city, region or keyword.  Subscribe and receive news when grants are awarded.  Interact with a state map of grants awarded!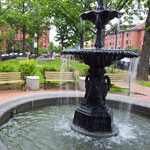 Research Inventory Grant
Inventory and creation of a finding aid for recently obtained records from the Chester Square Area Neighborhood Association.
South End Historical Society
Boston, MA, Suffolk County (Greater Boston)
project director: Lauren Prescott
awarded on:
2018-05-14
amount:
$2,000