Explore the Mass Humanities funded projects awarded from 2000 to the present.  Browse by grant type, city, region or keyword.  Subscribe and receive news when grants are awarded.  Interact with a state map of grants awarded!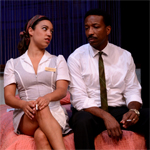 Project: Negotiating Social Contract Grant
11 performances of Katori Hall's "The Mountaintop," seven of which will be followed by audience talkbacks, cast conversations, and a panel discussion with visiting scholars and other outside experts in the fields of civil rights and African American studies.
Chester Theatre Company
Chester, MA, Hampden County (CT Valley)
project director: Daniel E. Kramer
awarded on:
2016-06-17
amount:
$5,000