Explore the Mass Humanities funded projects awarded from 2000 to the present.  Browse by grant type, city, region or keyword.  Subscribe and receive news when grants are awarded.  Interact with a state map of grants awarded!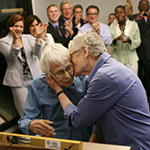 Project: Media Grant
Creation of a documentary that explores the institution of marriage and the couples whose own marriages have broken new ground, including the first same-sex couple to obtain a marriage license in the U.S., and an interracial couple who wed overseas because of anti-miscegenation laws in their home state.